Achilles Tendonosis and Ugly Swollen Ankles
by Sandy
(sacramento ca.)
I have had this Achilles Tendonosis problem for almost a year.


Getting worse- I am on my feet all day.
I have had PRP injection- worn boot for 2 months.
Physical therapy, ice , stretching.
New 150.00 shoes - inserts etc.
My ankle is ugly and swollen all the time.
Have seen podiatrist, ortho-sports medicine.
The scary thing is it is starting also in the other ankle.
Is surgery the only alternative.
----
Joshua Answers:
Hi Sandy.
I hope surgery isn't the only alternative. But, it's possible, depending on how degraded the tendon is. Even then the body can heal when given all the right factors.
1. Tell me about your 'ugly swollen' ankle. Details details details.
2. Tell me about the other ankle.
3. Age.
4. Overall health.
5. History of injury or pain in the area?
6. Why exactly do you think it's
Tendonosis
, as opposed to
Tendonitis
?
If it's because your doctors and such told you what it was, why exactly do they think it's Tendonosis?
See:
What Is Tendonitis?
7. Quick description of overall diet?
----------------------
Please reply using the comment link below. Do not submit a new submission to answer/reply, it's too hard for me to find where it's supposed to go.

And, comments have a 3,000 character limit so you may have to comment twice.
-----------------------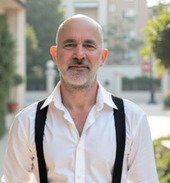 Joshua Tucker, B.A., C.M.T.
The Tendonitis Expert
www.TendonitisExpert.com