All The Symptoms of Wrist Tendonitis and a lump, what do you think it is?
by J
i think i might have wrist tendonitis.
im showing all the symptoms plus there is a little hump on top of my wrist which causes great pain...
i would like to know for sure if u think it is tendonitis.
----
Joshua Answers:
Hello J.
Well, I can't diagnose, and if I could I'd still need more information.
And, anytime there's a lump I'm rather duty bound to say "Get that checked out by your doctor to make sure that it's not a tumor.
Having said that...
1. Why exactly to you think that it is
Wrist Tendonitis
, as opposed to anything else?
2. Where exactly is the lump? Is if floating, or right on a tendon? Is it a lump like swelling, or a hard lump, or?
3. What do you do with your hands all day, historically?
If you think you have tendonitis, it's safe to say that
at the very least
you have a
Pain Causing Dynamic
of progressive muscle tightness and pain.
----------------------
Please reply using the comment link below. Do not submit a new submission to answer/reply, it's too hard for me to find where it's supposed to go.

And, comments have a 3,000 character limit so you may have to comment twice.
-----------------------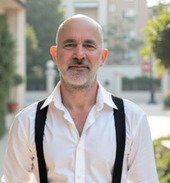 Joshua Tucker, B.A., C.M.T.
The Tendonitis Expert
www.TendonitisExpert.com