At the end of my tether with Plantar Fasciitis symptoms!!
by Anne
(Glasgow)
I have suffered from p.f. for 7 years now, i have had laser treatment, utrasound, cortizone injection, acupuncture. I have been taking anti-inflamatory tablets and painkillers, anti-inflamatories are also for athritis, in my hips, i also damaged my knees in a car accident.


So walking is difficult at best.
I have been experiencing numb toes for some time now,doc says it could be reynauds, i'm wondering if this has anything to do with pf??
I'm so frustrated with all that's going on, i'm unable to work now, because i cant be on my feet for any length of time now!
I get back pain, foot pain also knee pain! Is there any answer other than surgery for me? I forgot to mention that my arches have now fallen also!
Thanx Anne
----
Joshua Answers:
Hi Anne.
1. Yes, numb toes could be from Reynauds. Do you have Reynauds Syndrome? Or is your doctor just trying to find an explanation for the numbness.
Numbness could also be from tight muscles and connective tissue constricting nerve down your leg, any and all where from low back, hip, to ankle.
You are essentially experiencing symptoms from a (large)
Tendonitis
dynamic.
See:
What Is Tendonitis?
Muscles (specifically the Soleus under the Gastrocnemius muscles in the lower leg, and everything in and around the hips) are, and have been TOO TIGHT for
TOO LONG. Thus, you get a predictable, progressive
Pain Causing Dynamic
.
More tightness, more pain, more tightness, then BAM! your nervous system is shocked with a car accident. It clamps down even harder to 'protect' you. But it does that with MORE tightness and MORE pain.
Fallen arches are a function of a variety of things, including a lifetime of wearing shoes instead of being barefoot, lower leg muscles not functioning properly (over time), hips aren't working functionally, etc.
So, tell me more about your back pain. Is it disc related? Or?
There's a whole pattern there. So tell me more, and perhaps I can suggest something that will help.
----------------------
Please reply using the comment link below. Do not submit a new submission to answer/reply, it's too hard for me to find where it's supposed to go.

And, comments have a 3,000 character limit so you may have to comment twice.
-----------------------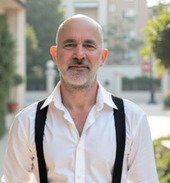 Joshua Tucker, B.A., C.M.T.
The Tendonitis Expert
www.TendonitisExpert.com