Bank teller with wrist pain on the backside right in the middle...
by Valarie
(Pa)
Hi,


I have had this wrist pain for at least 10 years now. When the problem first started, I went to the doctor & I was immediately tested for carpal tunnel. The test said that I was negative for CTS.
I also had bloodwork done about a year ago to rule out rheumatiod arthritis.
So I have just been living with this pain, but it's getting to the point now to where it's affecting my day to day activities. I have it in both hands, but moreso in the right one. It's on the backside, right in the middle of my carpal bones.
It hurts to flex my hand down, causes weakness to grasp objects at times & now the pain seems to be going up to my middle & ring finger nuckles.
At times my pinkie finger feels colder than the others. I have no pain in my thumb or up my forearm to my elbow. I am a bank teller, so I do a ton of repetitive movement counting money & on the computer.
I do notice that it gets aggravated at times the days following a grocery shopping trip by pushing the shopping cart. Do you have any thoughts?
Thank you!
Valarie
----
Joshua Answers:
Hi Valerie.
What you describe is exactly why I talk about the Tendonitis -dynamic-. It's the factors that are involved that are important, not so much the specific spot of pain.
Because it's the factors that cause the pain.
You don't technically sound like you have
Tendonitis
/ But you do have all the same factors: muscle tightness, connective tissue constriction, chronic
Process of Inflammation
, etc.
See:
What Is Tendonitis
It very much makes sense that the symptoms are spreading. That's how the
Pain Causing Dynamic
works.
And it makes sense that bending your
wrist causes pain, as too tight structures on the back side of your forearm get overstretched when you bend.
If it were just one wrist I'd wonder what would happen if you found a good chiropractor to adjust your wrist. But as it's in both...that could still be a factor since the body like to mimic the other side.
But perhaps that's just your particular flavor of pain. Everybody is different. I'm positive that if I poked on your forearms for 30 seconds I'd find tight, bandy muscle/connective tissue, and many sore/painful spots.
So:
1. 10 years, you say? Did it start slow, or start fast?
2. Is it always the same, or does it ebb and flow?
3. Gotten your wrist bones adjusted?
4. What's your vitamin D level?
5. Is there any reason pushing a shopping cart around should aggravate things? Do you grip really hard? Bend your wrists a lot an push? Etc.
6. At the end of a work day, do things hurt more or less?
7. What have you done for self care over the last many years? What worked, what didn't?
----------------------
Please reply using the comment link below. Do not submit a new submission to answer/reply, it's too hard for me to find where it's supposed to go.

And, comments have a 3,000 character limit so you may have to comment twice.
-----------------------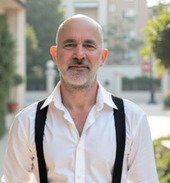 Joshua Tucker, B.A., C.M.T.
The Tendonitis Expert
www.TendonitisExpert.com