burning veins/right wrist tendinitis
by Brian V.
(Sacramento)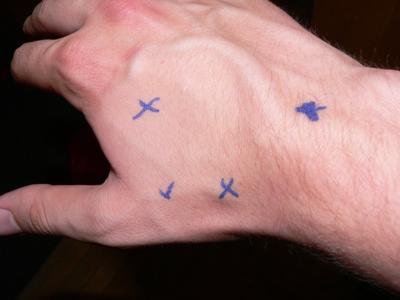 marking of pain on right wrist/hand
Since roughly January 2009 I have had problems with my right arm. I do not know what the cause of the problem is directly, it seems to have been a perfect storm of computer classes, a new computer job, and a genetic disposition for weak wrists.


The problem started as just a soreness and a tightness in various parts of my hand, beginning with the outer edge of my pinky side right hand. I believe this to be from using the trackpad on my computer. Switching to the other hand caused the same pain but much more quickly, presumably since my left hand was not used to that kind of operation.
The pain spread and I did seek treatment within a couple of months, but all I was told was use my computer less and I was given a brace. Nobody told me how to use the brace or what to do with it, and after a while I stopped using it.
I've never been seriously hurt before, and tend to bounce back from injuries pretty quickly. I've always had some sort of nagging injury, a sore ankle or something (my physical therapist says that I have a propensity for lax joints and extra flexibility). I am 23 years old.
Slowly but surely my hand got worse and I did nothing about it because it was so gradual. One night I hurt my right hand in a different spot, in the soft tissue between my thumb and forefinger on the back of my hand. I think this was because I was drumming too hard (I am not a drummer). The pain in my hand did not go away no matter what I did, though admittedly I did not try much. After a couple of months I saw an NHS doctor in London who naturally prescribe me two weeks of high dosage ibuprofen (about 1800 mg per day). I was very skeptical but I stuck to the regimen, and after about 10 days the pain that I associated with the drumming stopped. It never came back.
The pain in the rest of my arm continued, however. Consistently for as long as I can remember having this injury the pain tends to follow my veins, which are almost constantly engorged. At its worst, the pain would travel down my forefinger and middle finger, parts of my thumb, and up my forearm towards my elbow. It makes me wonder if I have a problem with my veins…
For much of the issue early on, resting/not using my computer seemed to help a lot. This wasn't always an option. At this point it is also worth noting that I have always had very warm extremities. I don't know if this is just good circulation or what, but have always had very hot hands and feet. Putting my hand in cold water always felt good, so when it felt good to do it post injury I probably did not take it seriously enough.
After one last paper for college and the abuse that came along with typing for two hours straight I decided to get aggressive about my issue. I have two different kinds of ergonomic mice (one that suits my 10 inch hands and that has an arch support, and one that is actually sideways so that my hand does not pronate and I click with my thumb), an ergonomic keyboard, and dictation software, with which I am actually writing this letter. I thought if I minimized my typing that I would heal to 100% like any other injury I've had before.
By this point I'd seen
a couple of doctors casually, and one finally suggested that I wear my brace at night when I sleep so that I don't bend my wrist. For the last six months or so I have not missed a night. It was also about six months ago, about February 2010, that I started physical therapy.
Under my PT care I started with isometrics, pushing my hands together in different positions for 10 seconds at a time in five sets. When I showed improvement in strength in testing, I was moved on to upper body strengthening to take the pressure off my wrist. This involved an exercise band with two loops, in the middle of the band jammed in a doorway so that I could pull away from it in different methods to strengthen my back and shoulders. Additionally I was told my posture needed to change (I have a tendency to hunch my shoulders forward, especially when I sit). A few weeks prior to physical therapy I had also taken a regular exercise on a stationary bike, which is something that I did not consistently do before. I was hoping it would improve my circulation and help my healing process. On that note, I generally have a very healthy 3000 calorie a day diet, and appear slim/fit.
Admittedly, I was not very consistent with my physical therapy, save for wearing the brace at night when I was sleeping and doing the isometrics every day. Nevertheless, I did show improvement, which I attribute mostly to less activity and wearing the brace at night.
Eventually my physical therapy consisted of many more things:
-one exercise had me put my wrists over the edge of a table and while gripping an exercise band and stepping on the other end of it, I would "lift" my wrist with resistance to the band, pushing my hand backwards, upwards, or in, much like curling a free weight.
–I progressed to holding a 5 pound weight over the edge of a table with my right hand, lifting my right hand with my left, and then lowering it slowly. It did not take long before I was comfortable using my right hand to lift as well.
–with my physical therapist I designed a device consisting of a large wooden dowel with a hole drilled through its center so that I could pass a rope through it vertically. On the other end of the rope I tied a 1 pound water bottle, and I would use my hands and forearms to twist the dowel until the water bottle reached the top, and then I would lower with just my right hand. This exercise in particular was very difficult, but also made me feel like I was actually doing something to heal my hands the most.
----
Joshua Answers:
----------------------
Please reply using the comment link below. Do not submit a new submission to answer/reply, it's too hard for me to find where it's supposed to go.

And, comments have a 3,000 character limit so you may have to comment twice.
-----------------------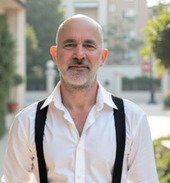 Joshua Tucker, B.A., C.M.T.
The Tendonitis Expert
www.TendonitisExpert.com