Can foot tendonitis cause pain up the entire leg?
by Annie O'Neill
(Austin Tx)
I believe that I have foot tendonitis, and I am wondering if this would cause pain in my leg? And can tendonitis pain go away and then come back?


----
Joshua Answers:
Hi Annie.
Why exactly do you thin you have
Tendonitis
? Specifically, why Tendonitis of the foot?
Where exactly on the foot?
Extensor Tendonitis?
Plantar Fasciitis
?
See:
What Is Tendonitis?
Yes, it can cause pain up the leg. Conversely, issue with the leg (upper and or lower) can be the source of your foot pain.
That's a general answer. For you specifically, I'd need more information to see what's going on.
Does Tendonitis pain come and go? Absolutely.
See:
Pain Causing Dynamic
More questions, more answers.
----------------------
Please reply using the comment link below. Do not submit a new submission to answer/reply, it's too hard for me to find where it's supposed to go.

And, comments have a 3,000 character limit so you may have to comment twice.
-----------------------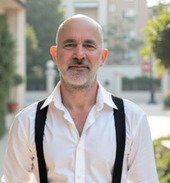 Joshua Tucker, B.A., C.M.T.
The Tendonitis Expert
www.TendonitisExpert.com