Carpal Tunnel and Hypermobility Problems
by Joanne
Hi Joshua,


I wanted to know your opinion about my treatment and if I should be doing anything different. For the past few months I been experiencing pain in my entire right forearm but a little on the left arm too. I also experience pins and needles sensations on all my fingers and the back of my hand and sometimes on the bottom of my right wrist.
I found out that gluten intolerance was giving me tennis elbow on both my forearms and after avoiding it for weeks the tenderness is gone.
However I still get pins and needles sensations in both hands mostly the right. And after a few hours of using the mouse the top of my forearm hurts a lot. I take 400 mg of magnesium and 16,000 IU vitamin D a day.
My vitamin D level is now 70 from a low of 8 six months ago according to blood tests. Also, I almost have hypothyroidism. My TSH is 0.58 and I believe the cut off for hypothyroidism is 0.40.
I've just sent my doctor an e-mail about the connection between carpal tunnel and hypothyroidism though I know my doctor doesn't like to prescribe hormones. I'm waiting to hear what he says.
My new physical therapist told me that I'm hypermobile and because of that I'm more prone to these types of injuries because my body makes my muscles tighter than most people just to keep my joints together.
To add to that I dislocated my shoulder (I felt it come out of the socket then I moved it back in) many times ten years ago. She said that my chest muscles that are near my armpits are too tight and are compressing the nerves leading to my arms causing my current symptoms. My right armpit is worse than my left and I wonder if it's because of the shoulder dislocation in addition to being right handed.
Also my right hand gets colder than my left and the PT said that it's because of the nerve compression.
So here's my treatment that I just started: my PT is massaging those small chest muscles weekly which are tender to the touch. I do nerve glides; extend my arms to the sides and slowly wave my hands (I definitely feel the stretch).
Back exercises; squeezing my shoulder blades together while using elastic bands on my hands for resistance. She said it's to open up my chest. I stand up at least every 30 minutes at work to avoid staying hunched over for long periods of time and to stretch my upper body muscles in the opposite direction of what I'm used to doing.
Walk for ten minutes during my lunch hour to get my blood circulating. She also suggested yoga which I would like to try but because of my wrists I can't do a downward dog or cat's pose.
I've also heard that hypermobility makes it easier to get
injuries from yoga. My biggest concern is that despite these efforts my job which involves a lot of computer use will make it almost impossible to heal because my body is too far gone down the pain spiral. What do you think of all this?
Thanks,
Joanne
----
Joshua Answers:
Hi Joanne.
A. Yes, hypermobile people can hurt themselves with yoga if they don't pay enough attention and if they stretch TOO far.
B. Up every 30 minutes at work = GREAT
C. Walks for circulation etc. = GREAT
D. Pull shoulder blades back = GREAT Also, with arms out paralel to the ground 'flap' them back to get that stretch. And pull back the shoulder blades then take the arms back, and/or do them at the same time.
E. Chest muscle massage = GREAT
F. Nerve Gliding = GREAT if it feels like it's doing something beneficial.
G. 8 --> 70 on your Vitamin D level. AWESOME! I assume you're taking Vitamin D3. Really that's awesome. Don't know what your plan is, but pretty soon you should probably drop down to 10k i.u.'s/day as that should level you out between 70-80 which is where you want to be.
Now, some questions to determine if you have
Tendonitis
or
Carpal Tunnel Syndrome
or a combination.
Also, as you said with the gluten intolerance etc, there is likely some nutritional aspects at play.
Vitamin B6 and B12, for instance, play a huge role in pain and nerve symptoms/issues.
Questions:
1. How did you dislocate your shoulder? Did it just fall out, or was there impact, or?
2. Why exactly does your PT think that you are hypermobile?
3. How 'cold' do your hands get? A little? A lot?
4. What are you eating now that you're off gluten (You REALLY should stay off gluten.) Overall picture.
5. Why are you taking 400mg of magnesium, as opposed to any other amount? Might want to find your tolerance level, as described on Kerri's
Magnesium Dosage
page.
I'm sure I'll come up with other questions as we go along.
I don't know anything about the thyroid thing. Perhaps Kerri will comment.
----------------------
Please reply using the comment link below. Do not submit a new submission to answer/reply, it's too hard for me to find where it's supposed to go.
And, comments have a 3,000 character limit so you may have to comment twice.
-----------------------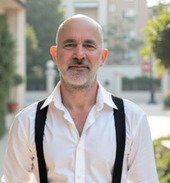 Joshua Tucker, B.A., C.M.T.
The Tendonitis Expert
www.TendonitisExpert.com