Classical Pianist with Finger Pain Nervous About Upcoming Audition
by Veronica
Hi! I am a 43 female and a classical pianist, just getting ready to a big audition in February.
Besides the natural nervousness caused by the challenge, I started to feel a little pain and soreness in my left index finger that got worse after practicing for an extended period of time (the funny thing is that I was on vacation prior to that, not practicing or working hard on anything for 6 weeks!).
Scared, I stopped playing for couple of days and started using an anti-inflammatory cream. It got better. I resumed my piano practice. The pain then traveled to the base of the finger, in the palm of the hand.
I continued with the cream and started applying moxibustion. It got better. I got braver and resumed practicing.
The pain then traveled to my forearm and it comes and goes in waves. Last night, I woke up feeling uncomfortable. It is been around 3 weeks in this dance.
Now, I am scared again. I just run into your website and will be doing the 7 days protocol starting tomorrow (today is 11/10). But what about my piano practice? When can I go back to practice again? The audition is very important to me and the repertoire is not exactly light.
Please, help me!
Thanks a lot,
Veronica
----
Joshua Answers:
Hi Veronica.
Definitely do the Icing Dipping and Ice Massage as
described on the
How To Reduce Inflammation
page.
That is definitely a primary issue.
I would also make sure that your Vitamin D levels were up where they should be (it's a safe bet that you are deficient).
I would also start making and eating
Bone Broth
and increasing your protein intake to help any irritation damage repair, and to keep your structures as strong as possible.
As far as practice, I would continue to practice, with attention on form and ease. Meaning, be as gentle on that finger as possible. And with the icing, even if you don't go easy, then you just need to ice enough to counter the negative effects of all the playing on that finger.
Keep me updated with the results of the icing and the rest, and feel free to ask more questions.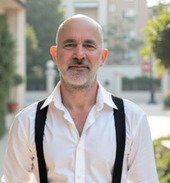 Joshua Tucker, B.A., C.M.T.
The Tendonitis Expert
www.TendonitisExpert.com