Connection between pain and tightness in wrist and forearm and 60 pounds of weight gain in 2 months
by ishan
(mumbai,maharashtra,india)
hi i am a student(age 19) currently doing animation and i have been experiencing pain in my wrist and forearm since the last three months.


initially there was only pain but since the last one and a half month my hand(wrist and forearm)feel very tight and i am not able to make much movement with it.
My work requires me to use the mouse and sketch for a long period of time(daily 5-7 hours) and i take breaks in between however this pain and tightness is causing problems for me to sketch since i cant make rapid movements my doctor said to wear a brace and gave some anti inflammatory medicine however there is very little relief from those can u please help me.
thanks
(also in the past 2 months i have also gained a lot of weight about 30 kgs, is the pain connected to this?)
----
Joshua Answers:
Hello Ishan.
From what you've described of your daily activities, the development of
Wrist Tendonitis
symptoms is not at all surprising.
Putting on 30 kilograms in the last couple months, that caught my attention. That's 66 pounds. That's A LOT! In 2-3 months?
That can absolutely have something to do with your wrist pain.
Tendonitis
can come from many different
directions.
If you put on 60 pounds so fast, you may want to go see a doctor. That is NOT normal.
If you know WHY you put on weight, let me know.
Feel free to tell me more about what's going on, what's been happening recently, any changes in diet etc, but at this point, I'm going to point you to a doctor to see about that weight gain.
Let me know what happens.
----------------------
Please reply using the comment link below. Do not submit a new submission to answer/reply, it's too hard for me to find where it's supposed to go.

And, comments have a 3,000 character limit so you may have to comment twice.
-----------------------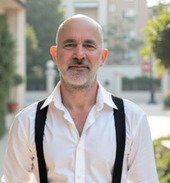 Joshua Tucker, B.A., C.M.T.
The Tendonitis Expert
www.TendonitisExpert.com