Cracking sound and pain in wrist in 15 year old basketball player
by John
(Singapore)
Hi, I am a 15 year old basketball player.
I have been getting wrist pain constantly for 2 months already. I believe this is due to me shooting too much basketball.
I have been ice dipping for 5 days already and it still hurts, of course it hurts less.
Is it that the longer that I have been injured, the longer it takes for me to heal, even with ice dip? Also, is there any way I can stop the cracking sound? My wrist hurts too when it cracks.
----
Joshua Answers:
Hey John.
The answer to your question, basically, is yes. The more established an issue is, the more time and work it will take to reverse the problem. It might not take long for pain to go away, but to reverse the structural issues that have been forming over time....
1. Tell me more about the cracking. Details details details.
2. How flexible are you? Can you touch your thumb to your arm? When you straighten your arm, does your joint go past a straight line, past 180 degrees, or does it stop at straight?
3. How's your diet/nutritional intake?
----------------------
Please reply using the comment link below. Do not submit a new submission to answer/reply, it's too hard for me to find where it's supposed to go.

And, comments have a 3,000 character limit so you may have to comment twice.
-----------------------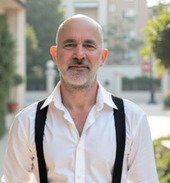 Joshua Tucker, B.A., C.M.T.
The Tendonitis Expert
www.TendonitisExpert.com