Dr. says Forearm Tendonitis, what now?
by James
(Mobile, AL USA)
I'm a 37 year in otherwise healthy condition. At the end of a long day, my right forearm (I'm right-handed) was swollen and tender just south of my wrist. The pain was immense, so bad in fact, my wife took me to the emergency room.


After an examination from an incompetent Physicians' Assistant, I demanded to see a real doctor. Finally, an MD arrived and literally within seconds told me I had tendonitis of the forearm.
I was given a wrist brace which the "orderly" cinched down onto my throbbing arm and two prescriptions for Motrin and Flexiril(sp?). In addition, I was told to rest for a week and I'd be fine.
I've read and researched to no end. I have no insurance so surgery is not an option anyway. Collagen pills, vitamins, etc. just seem to cost more than they help.
It's been a month: the swelling is gone, but the pain is still there and I'm still out of work. I have NEVER had any joint, tendon, or long-term muscle pain before. Also, I eat right and have good genes (my grandfather to this day is a woodworker, as is my father - they are pain free!).
What now?
Thank you
----
Joshua Answers:
Hi James.
I of course have some questions first....
1. Did this just come on out of the blue? Everything was fine and then one day Emergency Room level pain?
Or did it hurt for
a while, but manageable, and then get bad?
2. Had any Levaquin or Cipro antibiotics in the recent past? Or any other quinolone antibiotic?
3. Say more about 'swelling'.
4. Describe the pain. Who what when where how. Location, duration, flavor, etc.
5. Numbness or tingling? Shooting pain? Twitch or spasm?
6. What to you do with your hands/arms all day work/hobby-wise?
7. Did the doctor say anything else, or specific about his
Tendonitis
diagnosis? Medial Epicondylitis, Lateral? Wrist?
Tendonitis of the forearm is pretty vague....
Just as bad as 'go home and rest for a week'....
In the meantime as you answer those questions, start Ice Dipping as described on the
How To Reduce Inflammation
page. You'll want to do as many dips as you can per day for 7 days.
I know it's was a rhetorical statement, but I wonder...what would they do surgery on, exactly, anyway?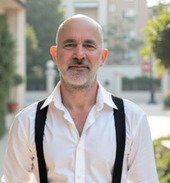 Joshua Tucker, B.A., C.M.T.
The Tendonitis Expert
www.TendonitisExpert.com