Finger Injury from climbing, Tendonosis, and Carpal Tunnel flare ups.
by Liam
Hello!


I'm a Massage Therapist and have been rock climbing since I was 5 (26 now).
For the most part my hands are doing great but i do deal with the occasional carpal tunnel flare up and the index and ring finger on my right hand still bother me from a climbing injury a couple years ago.
I've seen a lot of relief from massage and enzyme therapy and I'm wondering what you think would be a good plan to kick it's ass?
Thank you so much!
Liam
----
Joshua Answers:
Hey Liam.
Climbing since your were 5? Wow. Cool.
What was the climbing injury that hurt your fingers? Impact/fall/something got torn kind of injury, or it-just-started-to-hurt kind of injury?
You put 'Tendonosis' in the title, so I'm guessing the latter, but? Say more about
Tendonosis
.
I'm a big fan of massage, obviously. In and of itself, massage can keep the pain and problem of
Carpal Tunnel Syndrome
away.
Skilled massage, meaning having the know how to effectively deal with any particular problem, can totally eradicate Carpal Tunnel and
Tendonitis
, when applied correctly and the client does appropriate self care at home.
See:
What Is Tendonitis?
I can't say about your fingers yet, as I don't know what the injury is.
It's safe to say that as a climber and massage therapist, you essentially have a chronic state of inflammation in your hands and forearms. Meaning that you constantly have pain enhancing chemical floating around causing all sorts of mischief.
I give a thumbs up to using enzymes. They're used a lot in Europe (successfully, I hear). I'm working on putting suggestions on my website for natural anti-inflammatory measures.
I like your attitude, let's kick its ass!
Not sure quite yet what 'it' is, though.
You said Carpal Tunnel, no problemo. As far as the finger issue, tell me more, tell me more.
Right off the bat, though, I'd say:
1. Get
The Carpal Tunnel Treatment That Works
.
It's got the information and activities you need to reverse that Carpal Tunnel Dynamic that's been hanging on in there. And will help you get results with your clients as well.
2. Increase your protein intake. In my experience a lot of tendonosis and tendonitis problem is in part due to lack of sufficient protein to heal.
Give me more information about your Carpal Tunnel history and flare ups, and about the finger injury and pain, and let's figure out how to get you pain free.
Pain free is totally possible, depending on how much you still climb etc. Certainly we can show you haw to manage all the activity you want with little to no pain.
----------------------
Please reply using the comment link below. Do not submit a new submission to answer/reply, it's too hard for me to find where it's supposed to go.

And, comments have a 3,000 character limit so you may have to comment twice.
-----------------------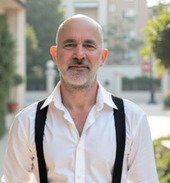 Joshua Tucker, B.A., C.M.T.
The Tendonitis Expert
www.TendonitisExpert.com