Finger Stiffness Tendonitis Without Pain, worried it will get worse and affect my job
by Kristen
(CA)
I am a court reporter, and I have developed what has been diagnosed as tendonitis in the middle joint of my right ring finger.


I have been doing daily contrast baths and splinting it nightly with no relief. I also took two weeks off over the holidays and splinted the finger for 14 days with no improvement.
There is no pain, only stiffness. I'm worried it will eventually cause problems with my work. Do you work with finger problems?
Also, the problem began a few years ago, so I guess I'm dealing with a chronic problem. Thank you!
----
Joshua Answers:
Hi Kristen.
It's certainly chronic, in the sense that there is a
Pain Causing Dynamic
at play.
Yes, I work with fingers too!
It's great that there's no pain, and there's just stiffness. That's a good thing.
Questions:
1. When doing contrast baths, how hot, and how cold?
2. Why tendonitis? Is a tendon involved?
3. Is the joint itself stiff? Feels built up and dense around the joint(s)?
4. Overall health?
5. Age?
I rather imagine that it's not
Tendonitis
so much as 'jointitis'.
Meaning, you've typed for years, much of the stress has focused on your finger/joints, and over time your body has tried
to make your joints more able to handle the load.
Which means they're kind of built up, stiff, tissue around is dense. Forearm muscles are tight and connective tissue is shrinkwrapping too, when puts constant compression on the joints, so there's some irritation and buildup interiorly too.
See:
What Is Tendonitis?
The question then becomes, how far along is this dynamic?
And, so far, it sounds like it's not high-tech to reduce the stiffness and keep the dynamic from getting worse.
Answer the above questions, and we'll go from there.
----------------------
Please reply using the comment link below. Do not submit a new submission to answer/reply, it's too hard for me to find where it's supposed to go.

And, comments have a 3,000 character limit so you may have to comment twice.
-----------------------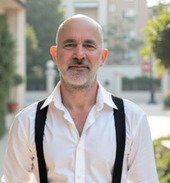 Joshua Tucker, B.A., C.M.T.
The Tendonitis Expert
www.TendonitisExpert.com