Forearm and wrist tendonitis from gardening and playing piano
Hi,


I started playing piano 4 months ago and 4 weeks ago I developed pain in my right wrist from the middle of the wrist going toward the outside or right side of the wrist and pain along the right of the forearm going from the wrist to about 5 inches towards the elbow.
I am going to a chiropractor who has used a Kinesio Tape method that I've not been able to find explained on YouTube that he said would have the video.
I want to keep playing, but I don't want to continue practicing until I am certain I have the solution(s) employed to full effect.
I am a professional gardener and it hurts when I hold my weed whacker for only a few minutes.
Many thanks,
Bob Milka
San Fernando, Ca.
----
Joshua Answers:
Hi Bob.
You really didn't ask me anything, but I'll try to interpret and provide you with something valuable.
1. Kinesio tape, while potentially beneficial, is not a fix. And, you can't wear it 24/7 forever.
2.
Tendonitis
is a progressive dynamic. You have to reverse the
Pain Causing Dynamic
.
3. A huge factor in
Wrist Tendonitis
is forearm muscle and connective tissue tightness. If it hurts now to hold a weed
whacker for just a few minutes, you're pretty far along the spectrum of 'good' to 'bad'.
Having said that, based just on what you've told me, you probably don't have any actual injury (rip, tear, tendon injury).
4. You may want to consider getting my
Reversing Wrist Tendonitis ebook
.
5. Whether it's gardening or playing piano, it's all the same. Forearm muscles fire to move/stabilize the wrist, hand, and fingers. There are hand muscles too, of course.
----------------------
Please reply using the comment link below. Do not submit a new submission to answer/reply, it's too hard for me to find where it's supposed to go.

And, comments have a 3,000 character limit so you may have to comment twice.
-----------------------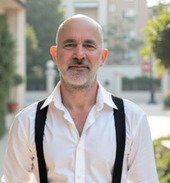 Joshua Tucker, B.A., C.M.T.
The Tendonitis Expert
www.TendonitisExpert.com