General stiffness and soreness in the morning, doctor says it's common to wake up with stiff ankles
by Frank
hi again from over the pond
have seen my physical therapist and the diagnosis seems to be tendonitis....yes that word again....of both my peroneal tendons and achilles.
I have rested up off the heavy walking and are cycling and swimming more
I have been fitted with an orthotic insert
question I have is this......the doctor I saw said that given my age ...43...it is not uncommon to wake up in thne mornings with stiff ankles
rather than pop meds, will " ice attack " in the mornings with a dixie cup be as good a therapy as anything ?
is ice as good for stiffness as it is for inflammation ?
thank u
----
Joshua Answers:
Hey Frank.
I rather imagine that your doctor is correct, that it is not uncommon for 43+ year olds to wake up with stiff ankles.
And therefore what? It's normal? How it's supposed to be? Uncorrectable?
Were meds his 'solution'?
Icing is great for stiffness and soreness. Among other things, stiffness is a function of muscles getting tighter over time and connective tissue shrinkwrapping.
Interestingly enough, just like that's a function of the
Tendonitis
dynamic.
It's all about the
Pain Causing Dynamic
, my friend.
We're always either going up an Upward Spiral, or going down a Downward Spiral into tightness and pain. Fast or slow, that's how it goes.
And we can help ourselves go in either direction.
I believe that I mentioned it before, to warm your feet and lower legs up before you put your weight on them first thing in the morning. Ice dipping and ice massage would be great too.
Circulation. More! More! More!
So essentially the answer to your question is, icing is just as good for stiffness as it is for inflammation. It's all connected.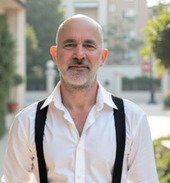 Joshua Tucker, B.A., C.M.T.
The Tendonitis Expert
www.TendonitisExpert.com