Guitar tendonitis plz help!
by Mike
(Minnesota)
On average I played guitar about 9-10 hrs a day in Music college, and a little less when I was in high school.


About six months ago I was in an ensemble at school playing very demanding material, very fast and accurate movements.
After one rehearsal it was too much and I stopped playing - my forearms where rock hard and I knew there was something wrong.
I took a semester off and focused on rehabiliting my arms (both of them feel pain)
I began to ice and stretch and stopped drinking so much caffeine.
A month later I started hand therapy at an orthopedic center where I was taught stretches, small amount of yoga and techniques to cope with pain.
4 months later there is small progress, I can play after a lot of preparation, but it will most definitely become inflamed afterward so I use icey hot during performances and then use real ice afterward.
I also started physical therapy for my back and posture. Its now been 5, almost 6 months and I'm still struggling. I did have a long period of rest, now I just play gigs and I don't really practice at all.
What do you think is the next step for me?
Great resource. Thanks for the site.
----
Joshua Answers:
Hi Mike. I'm glad you're finding the site valuable.
Well, were I you I'd get my
Reversing Guitar Tendonitis ebook
. It has the bulk of what you need to reverse this progressive pain dynamic.
There's a couple things in
there I'd have you focus on.
Rest
won't fix it. Not even maybe.
Stretches (traditional stretches, anyway) aren't going to do it.
You're going to have to jump in there and get to work on it, meaning little bits often throughout the day. Probably for -at least- a couple weeks, depending on your specific situation.
There's no magic bullet for you here. Having said that, it's not mysterious either.
Having said -that-, I'm working with a college guy/guitar player and we just can't get him out of pain....so hopefully you two don't share exactly the same dynamic.
My point is, it's going to take some effort, some learning, so diligence.
But In my experience, I don't know what other good options you have. PT for posture and strength will help. But you have to deal with those forearms, and nutrition too.
----------------------
Please reply using the comment link below. Do not submit a new submission to answer/reply, it's too hard for me to find where it's supposed to go.

And, comments have a 3,000 character limit so you may have to comment twice.
-----------------------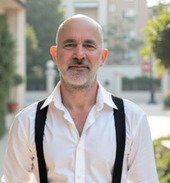 Joshua Tucker, B.A., C.M.T.
The Tendonitis Expert
www.TendonitisExpert.com