Had carpal tunnel surgery and still have pain in my hands.
by Tosha Jones
(Hilbert, Wi)
I had carpel tunnel surgery on both of my hands sept 2009 and after that my hand have not been better. I am in pain with my fingers, hand and wrist. I lift things and they fall out of my hands and making my hands in pain. I also can not pull things with out massive pain in my hands.


I worked for a company that we did a lot of repetitive motion and after the surgery had lost my job due to being on restriction for my hands.
I have been to the Arthritis person and did the emg 2 and blood work. Now I can not work due to the 5lbs no repetitive motion indefinitely.
I also am on medication for the pain in my hands. The Dr says that i have to go back to my surgeon to refer me to a hand specialist. This means more money out of my pocket.
I feel that it is still work related due that i had the surgery and still was pain. They say that it is a separate issue.
I just want to work and be able to use my hands like I used too. I even have a hard time with doing dishes. I have to start and stop. Every thing that I do involves
using my hands.
This is not fair. I have to see pain management every 3 months and that comes out of my pocket.
It seems that nobody knows what is wrong with my hands and they just want to put you on drugs and not find the problem.
I totally agree with you.
----
Joshua Answers:
Hi Tosha.
Well. That sucks.
Carpal Tunnel Syndrome
and
Tendonitis
can be bad enough, and then the sharp objects of surgery get plowing around in there....it can get worse.
As you've experienced.
So.
What are you doing other than pain medication, self-care wise, to decrease symptoms?
----------------------
Please reply using the comment link below. Do not submit a new submission to answer/reply, it's too hard for me to find where it's supposed to go.

And, comments have a 3,000 character limit so you may have to comment twice.
-----------------------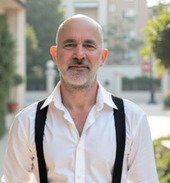 Joshua Tucker, B.A., C.M.T.
The Tendonitis Expert
www.TendonitisExpert.com