Heel Surgery Lost and confused about my healing process
by Vickie
( Texas)
I started having problems with both heels about a year ago. In January 2012 I went to the dr he did a cortisone shot in both my heels. I was fine for the first month then my right foot started hurting again.


I then went back he gave me another injection in the right foot it gave me no relief so he scheduled me for surgery.
I had my surgery on 5/10/12 I am walking around but can only do a little housework at a time with out hurting as if I never had the surgery starting to think the surgery did not work. My dr said I can go back to work but if I cant stand very long not sure if going back to work is a wise choice. I stand all day long sitting is not an option.
I have seriously thought about going to see another dr to look at my foot just not sure if that is a good idea. I like my dr personally but was not very helpful my last visit he came in clipped the dead skin from the stitches and told me ok looking good. Can go back to work he didnt push on my foot or anything.
I told him I was still having pain and cant even wear my regular shoes because of the swelling he said it was normal and the numbness is normal. I just need to keep pushing myself.
I dont want to be walking around with a limp and my foot constantly hurting the rest of my life. I am feeling like its a lost cause and not sure what to do. I am suppose to go back to work in 1 week, and I don't see how I am ready.
----
Joshua Answers:
Hi Vickie.
Unfortunately, 'normal' does not necessarily translate to 'good'. Surgeons are only good (hopefully) at surgery. They're not good at fixing a plantar fasciitis, and they're not good at making sure you recover and rehab in the
best way possible.
They do the surgery, then pat you on your back a couple times when you come in for a check up and either say 'You're good to go, don't worry about it' or 'Well, bummer, there's nothing else I can do for you'.
For the record,
Corticosteroid Injections
are, at best, a pain reliever. They are not a fix for
Plantar Fasciitis
.
Where did you have surgery, specifically. Or, what did your doctor do, specifically? Heel pain is a function of problem up in the lower leg, and isn't really a heel problem.
Also for the record, you don't need to 'push yourself'. You need to decrease inflammation, and do self care to fix the original problem (which surgery didn't do anything to fix), which lucky for you is the same self care to do post-surgery.
Make sure you understand the
Process of Inflammation
.
Then see:
How To Reduce Inflammation
That's the first thing to do at this point. Get a 5 gallon bucket, freeze some water bottles, and go crazy with it. That will lower pain levels, Ice Dipping is really good that that.
Tendonitis
is bad enough. It gets worse when a surgery happens for no reason, for bad reasons, or just gets bungled.
See:
What Is Tendonitis
Did you go back to work? Update, please.
----------------------
Please reply using the comment link below. Do not submit a new submission to answer/reply, it's too hard for me to find where it's supposed to go.

And, comments have a 3,000 character limit so you may have to comment twice.
-----------------------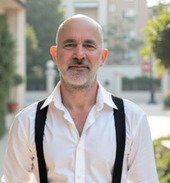 Joshua Tucker, B.A., C.M.T.
The Tendonitis Expert
www.TendonitisExpert.com