I got Plantar Fasciits surgery yesterday
by Ken
(Puyallup, WA)
I got Plantar Fasciitis surgery yesterday.
The surgery itself wasn't a big deal. It didn't take very long, I got a prescription for a good strong painkiller, the doctor said the surgery looked good so I should notice immediate relief of pain.
I've walked around on it some and I don't think I'll need to stay off it very long.
I don't know exactly what the doctor did to the plantar fascia, or what or how much was cut, but I've had foot pain for years so I hope this takes care of it.
I'm going to stop the pain killers and see what happens. How long does it take to heal so you can walk around on it with no problem?
I just found this website while I was on the couch keeping my foot elevated. My doctor never said anything about Tendonitis, just that I should have the surgery. I wish I had found the site sooner, but so far the surgery seems fine.
Ken
----
Joshua Comments:
Thanks for sharing Ken. I'm so glad it's going well. I don't hear that often, and I like it when I do.
How long before you're back up and on your feet? It depends on your particular scenario, how badly the surgery damaged/affected the structural integrity of your foot/feet, how your body adapts to that change in integrity, the self care you're doing, etc.
I just spoke to a woman who is
four months out from surgery and can still barely walk.
Some thoughts:
Doctors don't make a connection between
Tendonitis
and
Plantar Fasciitis
.
They think that they are entirely different scenarios (when in fact they are exactly the same dynamic).
They also think that wrist tendonitis, achilles tendonitis, tennis elbow, etc, are all entirely different scenarios.
Same dynamic. Different location.
See:
What Is Tendonitis?
They know that there is a
Process of Inflammation
in play, but don't ask WHY it's there.
Plantar Fasciitis Surgery
is the final solution to
Plantar Fasciitis Symptoms
when the rest, anti-inflammatories, splints and braces, corticosteroid injections, etc, all fail.
They don't ask WHY those failed.
They failed because they didn't effectively address all the factors of the
Pain Causing Dynamic
.
----------------------
Please reply using the comment link below. Do not submit a new submission to answer/reply, it's too hard for me to find where it's supposed to go.

And, comments have a 3,000 character limit so you may have to comment twice.
-----------------------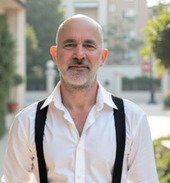 Joshua Tucker, B.A., C.M.T.
The Tendonitis Expert
www.TendonitisExpert.com