I have Been Dealing With Whiplash for 13 years
by Ben
After reading your page about whiplash injury I started crying.
I have been dealing with a whiplash injury for thirteen years.
Until now my symptoms have yet to make any sense.
I have had a few bumps along the way always sending me into a downward spiral. Sometimes even a pat on my back can set things off.
When things are I guess inflamed my symptoms are burning numbness through my entire head, blurred vision and lack of concentration. I told a friend once I would have rather lost a limb than deal with this injury at least people could tell what is wrong with you. Please tell me your advice and I will buy what ever your selling.
Ben M.
----
Joshua Answers:
Hello Ben.
Wow, that sounds incredibly painful, and chronically on the edge.
I appreciate your willingness to buy whatever I'm selling. I've been thinking about making a whiplash DVD, but I haven't quite figured the best way to present the information yet.
Plus, it can be tough to work on your own neck.
Potentially we will want to do a
Phone Consultation
, but let's see what we can do online here first.
And, I'm sorry it has taken me a week to get back to you.
Here we go.
Ok, so you are in
acute pain, frequently, it sounds like.
Give me some more information....
1. Describe the crash. Emergency room? Xrays?
2. Describe the first month after the crash.
3. What whiplash treatment did you get, if any?
4. Describe your pain symptoms now, other than what you have already said. Constant pain, just sometimes, recurring bouts of pain, how bad?
5. The symptoms you described above...how often, how bad, how long do they last, what helps, what doesn't, what aggravates.
More details so I have a better picture.
It definitely sounds like you have a chronic, acute inflammation process in place, and/or at least right there ready to go at any moment.
I'll wait to hear more details before I say anymore, if only to confirm my suspicions.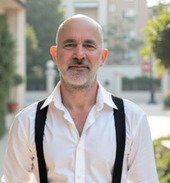 Joshua Tucker, B.A., C.M.T.
The Tendonitis Expert
www.TendonitisExpert.com