I still have foot pain 2 years after my Plantar Fasciotomy
by Miranda
(Michigan)
Hello Everyone.


I still have foot pain two years after my Plantar Fasciitis surgery.
I don't have any complaints about the surgery itself. I didn't like it or anything, but all things considered it wasn't so bad.
After the surgery though I have a lot of complaint. I had a full two months of limping around with pain, even on the painkillers and anti-inflammatory prescriptions.
And ever since then, I've had my original foot pain *plus* new and worse pain in my foot. Some days are better than others but overall I wish that I had never gotten the surgery. They said it would help but it obviously hasn't.
I thought a Plantar Fasciotomy was supposed to be a simple get in there and cut something, but it feels like the surgeon took a cheese grater to the inside of my foot.
Plus now I have a kind of limp, and my hip and back are starting to hurt from it.
I'm 58 and as I write this I notice that I have given up on my foot ever healing. My doctor wants to do another surgery but there's no way I'm letting anyone do that again.
I'm not going to tell anyone not to get Plantar Fasciitis surgery, but I sure wouldn't if I knew then what I know now.
----
Joshua Answers:
Hi Miranda.
Unfortunately,
Plantar Fasciitis Surgery
isn't the miracle cure that we think it is.
And two months of limping around is
entirely common. You just got stabbed in the foot, at best!
Surgery cuts and damages the human body. It makes unhappy tissue even unhappier.
And when it cuts the supporting structures that support the mobile bony arch of the foot...things can go bad.
Especially when one takes into account that most of the cause of foot pain comes from issues in the lower leg.
Plantar Fasciitis Symptoms
can get worse because all the causes of the symptoms were in no way fixed or helped by surgery.
Tendonitis
can show up anywhere, with predictable progression and symptomology...and causes.
See:
What Is Tendonitis?
Surgery does not fix nutritional insufficiency, or help an inflammation process.
Some people do feel better after they recover, true. But that doesn't change the basics of the situation.
----------------------
Please reply using the comment link below. Do not submit a new submission to answer/reply, it's too hard for me to find where it's supposed to go.

And, comments have a 3,000 character limit so you may have to comment twice.
-----------------------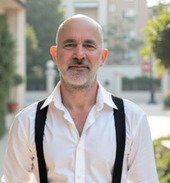 Joshua Tucker, B.A., C.M.T.
The Tendonitis Expert
www.TendonitisExpert.com