I was diagnosed with carpal tunnel then six months later tendonitis
by lizbeth castro
(san bernardino)
I woke up about 10 and a half months ago unable to get out of bed because of pain on both wrists.


Then in july I went to the er with numbness on hands and more pain I was then diagnosed with carpal tunnel, then I wore wrist brace and took pills for inflammation and did not help at all, then I continued going to er and doctors appointments and no help but trying to give me pain killers that I don't like to take.
In december I went to a different hospital and I was told I had tendonitis it is now 10 months later I'm suffering even more of pain and my whole life has changed I can't do anything for me or my family I feel useless I have a appointment for the shots on may 3 then I will see what happens I feel pain around the clock even if I don't do movements to my hands I wake up crying at nights because my wrist is hurting bad and forearm,bicep, shoulder,and at times my neck.
I need help I become weak if I tend to do anything. What could this be what should I do where should I go next I can't even move my fingers apart and lift them at the knuckle part of hands.
----
Joshua Answers:
Hi Lizbeth.
Ouch.
That sounds pretty bad.
But I can tell you, it's not
Wrist Tendonitis
or
Carpal Tunnel Syndrome
.
You might have some of the same symptoms, and some of the same factors, and you do definitely have 'inflammation of a tendon', but there's something else going on.
I see A LOT of people with a variety of different symptoms, and it's unlikely a
Corticosteroid Injection
is going to help.
The
primary thing I see in what you've said so far is nutritional deficiency.
Magnesium, Vitamin D, B6, B12.
Magnesium is responsible for muscle tightness/looseness, and muscle pain.
And
Inflammation Causes Vitamin B6 Deficiency
.
And most everybody is Vitamin D deficient in the U.S.
And this is just a guess, I'd need to ask more questions, but I bet that you have a
Gluten Intolerance
.
Overall, you are stuck in a pain dynamic. And your body can't get out of it, and is in fact caught in a biofeedback loop where the factors feed on themselves and get worse and worse.
Questions:
1. How's your digestion, historically. And energy levels?
2. Have you been pregnant? (takes a lot of nutrients out of you)
3. History of car crash, falling off a horse, etc? Injury?
4. History of using your hands? Office job, etc?
5. Did this come on overnight, or slowly over time until it became unbearable?
6. Anything else interesting?
----------------------
Please reply using the comment link below. Do not submit a new submission to answer/reply, it's too hard for me to find where it's supposed to go.

And, comments have a 3,000 character limit so you may have to comment twice.
-----------------------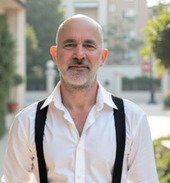 Joshua Tucker, B.A., C.M.T.
The Tendonitis Expert
www.TendonitisExpert.com