Ice massage for chronic wrist pain question
by Colin
(UK)
Hi Joshua,


I've been trying your ice massage technique on my right wrist (I've had chronic wrist pain for over ten years). I can't find a specific painful spot on my wrist when I do the ice massage, but there is a spot that, after a minute of massaging, becomes very sensitive and sends an uncomfortable shooting sensation into my fingers. Obviously, I'm hitting a nerve.
Should I ice massage this spot or avoid it? And if I can't find a painful, non-shooting spot, should I even bother with the ice massage?
Thanks.
-Colin
----
Joshua Answers:
Hi Colin.
If you're sure it's a nerve, then yes, don't pester that spot too much. Nothing good comes from irritating a nerve.
If it's a 'trigger point' kind of spot, that's entirely different. Muscle fibers stuck in constant contraction may not be tender at first, but press on them a bit and all of a sudden you can feel it.
1. How far away from the wrist are you working? You should be exploring/working all the way up the elbow, and getting the thumb pad muscle area(s) too.
Just because you feel pain at the wrist, doesn't mean that's the source of the pain.
Tendonitis
and the
Process of Inflammation
.
2. Describe your chronic 10 year old wrist pain. Details, details, details.
3. Does the ice massaging feel like it reduces pain levels?
4. Overall health? History of injury?
----------------------
Please reply using the comment link below. Do not submit a new submission to answer/reply, it's too hard for me to find where it's supposed to go.

And, comments have a 3,000 character limit so you may have to comment twice.
-----------------------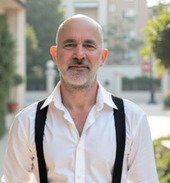 Joshua Tucker, B.A., C.M.T.
The Tendonitis Expert
www.TendonitisExpert.com