Is my knee problem tendonitis or something else?
For years now, both knees would get sore occasionally, but nothing very bad.
About a year ago, I played basketball after not having played in a long time.
Afterwards, my knees were VERY sore. They also felt kind of wobbly and sometimes felt like there were loose things floating around in there. I was going to talk to my doctor, but it pretty much went away after some rest.
Now I walk about 2 miles to and from work every day, and walk while playing golf. My knees are frequently sore, but they don't bother me much while walking - more so after. I decided to try to strengthen them, so I started running this past week, but this made them hurt more.
Is this tendonitis, or something more serious?
----
Joshua Answers:
Hey there.
Right off the bat it doesn't sound like Tendonitis.
Could be some of that in there, but when you say 'floating around in there' that is a big clue for other knee issues, for instance like bits of cartilage floating around between the bones/patella.
Was the 'wobbly' feeling just from your muscles being fatigued after years of not playing and then jumping back into a game?
Getting back into running: I would start with very short distance. Very short. And slowly build up.
If walking leaves you sore...you might even want to hit the weight room before you start running.
Running can be tough on the knees, so it's better to strengthen your supportive muscles before you go pounding the pavement with your knees.
You
certainly could have some knee tendonitis from playing basketball. It follows the pattern of a big exertion, pain, rest until no pain, then start up again and have pain issues.
But it sounds like you're dealing with a bigger area, and just doesn't sound like true Tendonitis from what you have described.
But there is definitely a
Pain Causing Dynamic
in place.
I would ice intensively for a week or two, while you strengthen your leg muscles.
I would also immediately start on my favorite natural tendon and joint strength supplement,
Bone Broth
.
If you do have floaties getting in the way of your joint movement, that can get annoying and quite possibly limiting.
That's worth a trip to an expert knee doctor to see if there are floating objects. Though at this point, it doesn't sound bad enough to draw a whole lot of attention, and the advice you will get will sound something like 'rest, ice, anti-inflammatory meds, come back when/if it gets worse'.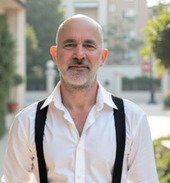 Joshua Tucker, B.A., C.M.T.
The Tendonitis Expert
www.TendonitisExpert.com