Just had achilles Surgery a week ago, pain high towards the calf
by David
(Melbourne Australia)
I was playing indoor soccer and felt someone 'kick' me from behind, fell over and i knew straight away what it was...


a trip to the hospital straight after confirmed my fear and was booked into surgery the next day.
it has now been a week and i am seeing the surgeon in 4 days.
he told my fiance after the op that it had gone well, however i had a zigzag rupture higher up my heel towards the middle of my calf, i am 33 and always running, playing sports and active.
my pain is good, not too bad...and i can wiggle all my toes easily and was able to straighten after op.
the incision was only one on the calf.
so, i am thinking (hoping) that this wont be as serious as some of the ones posted on here and hoping to be walking soon as my heel isn't sore at all, the only pain seems to be coming from my calf area.
any questions you think i should be asking the surgeon?
bored out of my brains on these crutches!
david
----
Joshua Answers:
Hi David.
Bored huh? I was just telling Steve at
39 year old Right Achilles Tendon rupture recovery
that patience is a virtue.
Was your heel sore? If not, why do you think it should be sore now?
Think it sucks
now? Get active too early and re-rip the achilles tendon and have to go through it all again....that'd suck even more.
Not saying you're going to do that, just sayin.
This
Quiz Your Doc
page may be relevant, even though
Achilles Tendon Rupture
is much more straightforward than general
Achilles Tendonitis
.
The only questions I can think of for you to ask the doc are:
1. How much faster/better should a zigzag tear heal compared to a full tear?
2. Why did it tear so high up towards the calf? As opposed to down lower?
3. How exactly should I rehab my Achilles so it will be stronger/healthier/safer than it was before?
----------------------
Please reply using the comment link below. Do not submit a new submission to answer/reply, it's too hard for me to find where it's supposed to go.

And, comments have a 3,000 character limit so you may have to comment twice.
-----------------------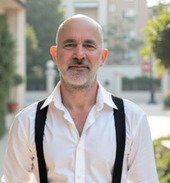 Joshua Tucker, B.A., C.M.T.
The Tendonitis Expert
www.TendonitisExpert.com