39 year old Right Achilles Tendon rupture recovery
by Steve Kumar
(Mason, OH, USA)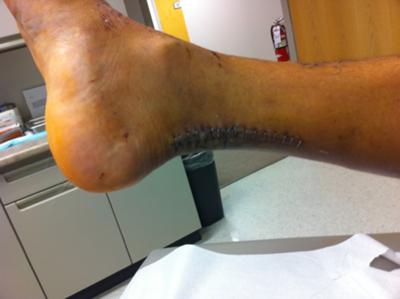 Post achilles rupture reattachment surgery
Thanks for this blog. Its very informative.


My name is Steve. I'm 39. I ruptured my right tendon on Mar 17th 2012. Had the surgery on Apr 5th 2012. It was a complete rupture.
Apr 5th - Had the surgery. Was put in a splinter cast with a pointed feet and no weight bearing. I was on a serious bed rest the entire week with foot elevated.
Apr 13th - 1st doc visit post surgery - The splinters came off. Doc was satisfied with the progress. Put me on the fibre glass cast and told me limited weight bearing. But I need to use crutches for walking. Noticed the staple pins on my leg. It was really creepy, didn't have any idea i had those stapler pins pinned to the leg.
Apr 15th - Tried walking and I was able to walk with the cast. No pain experienced. I didn't go outside home, but inside the home and walking up and down the stairs with the cast.
Apr 23rd - Second visit to doc. The cast came off, the doc was happy with the progress, the staplers came off. Doc put me on another fibre glass cast for 2 more weeks. Interestingly he said limited weight and no walking. It starting to itch like hell at the incision area. With the cast on the leg, I can't do much. I'm using hair dryer with cool hair setting as well as taking benadryl. Its helping little bit. But how I wish I didn't have this cast.
Now, I'm waiting for May 7th, the doc says if everything goes well, he will put me on to the boot.
The frustrating part is, I'm not sure why Doc doesn't want me to walk with the cast. He wants me to use crutches. I don't have any pain walking without
the crutches. I think Doc is over cautious.
Well, the healing process is extremely frustrating. It seems like traveling thru' a time machine.
----
Joshua Answers:
Hi Steve.
Thanks for sharing, and for the post surgery picture too.
If you're frustrated by the length of the recovery etc, just wait till you get impatient and start walking/running/jumping too soon and the repaired rupture rips again and you have to go through it all again.
Just because you don't have any pain (lucky you) does not in any way mean that your tendon is strong enough to have load placed on it.
Achilles Tendon Rupture
is no joke. A huge chunk of tendon ripped in half. It got stapled/sewn back together. It doesn't have direct blood supply.
Keep it moving, but for god's sake don't push it. This is once scenario where the wisest option is to be super conservative.
You can always rehab it later (because you'll have to deal with the
Tendonitis
dynamic), but first thing's first, don't re-injure the tendon, let it heal back together.
See:
What Is Tendonitis
How'd the 7th meeting with the Doc go?
----------------------
Please reply using the comment link below. Do not submit a new submission to answer/reply, it's too hard for me to find where it's supposed to go.

And, comments have a 3,000 character limit so you may have to comment twice.
-----------------------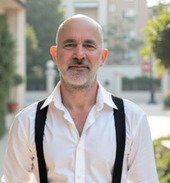 Joshua Tucker, B.A., C.M.T.
The Tendonitis Expert
www.TendonitisExpert.com