Knee Tendonitis from mountain biking and plyometrics
by Alvaro Hasbun
(Chile, Viña del Mar)
Hi Joshua, before anything, thanks for this site.
I'm a 26 years old man (height 6,15 foot, weight 211 pounds) I start doing sports four times a week since about five years ago.
Mountain bike was my first sport, and since it, I ride bicycle almost everyday. Two years ago I had to have surgury because of a meniscus rupture.
After surgury everything was ok, in like three month I was back to my sport routine with no problems.
Like a year ago I start doing a lot of bodyweight excercises (lounges, squats, and stuffs like that) plus I start doing plyometrics excersies.
So my last year routine was: mountainbike, bodyweight excersies and plyometrics exercises -like an hour jumping practically with no stop-.
Like 6 weeks ago I was really into it, doing sport every day. One night I start feeling a burning pain in the two knees, but it was worst in the one that I had surgery.
I thought that I was in need to stretch so I went to to a yoga class...ufff (big mistake I think).
After that I was really bad, really weak knees and burning pain most of the time, specially when I'm sitting.
I went to the doctor and he told me to rest, give me some anti-inflammatory pills and physical therapy.
It helps, but just a little, it didn't really keep the pain away, and my knees were still weak.
So the doctor gave me a corticosteroids shot in both knees, this was four days ago, I start feeling better, but still with weak knees.
And I know that even if the pain will go, it is because the corticosteroids shot, and is not that I'm really healing. I just want to go back to do some sports, this is really getting me
down, I can't even walk without noting that my knees are bad.
And I just don't know what to do.
Any comments will help.
Thanks!!
----
Joshua Answers:
Hello Alvaro.
I'd love to help.
Let me ask some questions so I can know better what is going on...
1. Is the pain different/in a different spot than from the meniscus previous injury/pain?
2. Where exactly were the corticosteroid injection(s) injected into?
3. What have the doctors said was going on? Knee Tendonitis? If so, what tendon(s)?
4. Did this pain come on slow, or come on fast?
5. Describe the weakness in more detail. What exactly feels weak? The muscles, the joint, stability...etc?
6. Are you doing anything else to help your knees? Is that helping or hurting?
7. Do you think you did something specific in yoga that made it worse?
8. Where exactly does it hurt?
9. Does it still burn?
10. Why do you think that it is knee tendonitis, as opposed to anything else.
Answer those questions, and we'll go from there.
And, I think that's very wise of you about the
Corticosteroid Injections
, that they just get rid of the pain temporarily but don't do anything as far as reversing the
Tendonitis
dynamic.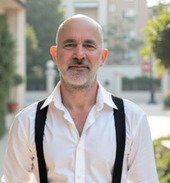 Joshua Tucker, B.A., C.M.T.
The Tendonitis Expert
www.TendonitisExpert.com