Knee Tendonitis Pain from jumping and squatting
by Aldo
(Miami, FL USA)
I first had some pain in my knee from (squatting, or jumping etc) so I took ibuprofen and took a day off.
The pain was gone, I didn't think anything about it, then a few days later it was back.
Then continued for several months, and now I am in considerable pain and it won't go away. As soon as I start any activity it hurts even more and can even become so intense that nothing helps it.
The doctors said I have tendinitis. Then I have consider to have surgery.
Any suggestions?
----
Joshua Answers:
Hi Aldo.
You bet. I have plenty of suggestions.
First off is, have your doctor describe to you how surgery is going to help knee tendonitis. And ask where exactly they are going to cut, and how they know that that is where the tendonitis is.
So there's that. You describe the classic progression of tendonitis.
Now, a few more questions so that I have a better idea of what is going on.
1. What kind of tendonitis did your doctor say that you had?
2. Why did your doctor think there was no option besides surgery?
3. How long have you been jumping and squatting?
4. Are you a
weight lifter? Basketball player?
5. How long has this been going on. It sounds like it just started a few months ago. True? Have you ever had knee pain before?
6. How old are you?
7. Do you have pain when you are laying down or sitting down? Or just when you start being active. What about just going for a walk, does that hurt your knees?
8. What have you been doing for your tendonitis pain other than Ibuprofen?
9. Where exactly in/on the knee does it hurt? Send a picture if you can.
Let me know, and let's get you going down the right path to healing your knee tendonitis.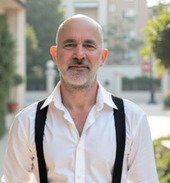 Joshua Tucker, B.A., C.M.T.
The Tendonitis Expert
www.TendonitisExpert.com