My left shoulder hurts, could be shoulder tendonitis, doctors have no idea what is wrong
by Vicky
(united kingdom)
I have had pain in my left shoulder for 3 years but the last year of it has been very constant.
I have had 2 steroid injection and an x-ray but they could not find anything.
I had another injection last week and the pain is getting worse no doctor has actually told me what is the problem.
----
Joshua Answers:
Hi Vicky.
Well, that's a bummer doctors are giving you
Corticosteroid Injections
even though they have no idea what the problem is.
Do they have any theories? Guesses?
The best I can do right now is ask you some questions.
Questions:
1. Describe the pain.
2. What exactly hurts, and when does it hurt?
3. History of daily activity/work activity/sports activity.
4. History of injury?
5. Did the doctors say anything about
Shoulder Tendonitis
?
6. Overall health?
7. Age.
Answer those questions, and that will give me an idea of where to start with you.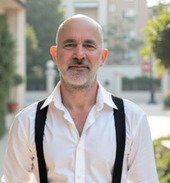 Joshua Tucker, B.A., C.M.T.
The Tendonitis Expert
www.TendonitisExpert.com