No Grip Still Five Months After Carpal Tunnel Surgery
by art
(ga.)
I had surgery done on my right hand on september 9 2009. I had severe carpal tunnel syndrome.


My hand has healed but I still have pain in the palm, my wrist still has pain, my middle fingers go numb, but my biggest problem is no strength in my hand, i have no grip. and it seems to be getting worse.
----
Joshua Comments:
Hi Art. Thanks for sharing.
I wonder if the nerve is still constricted at the wrist. Is the numbness and loss of wrist strength the same as it was pre-surgery, or different?
I also wonder how much of that numbness etc is coming from up at the front of the neck and chest/shoulder. Surgery wouldn't help that at all.
1. If you haven't been, start IceDipping as described on the
How To Reduce Inflammation
page.
As many dips as you are motivated to do for a week, let's see what happens.
You have inflammation in place, and all the tight muscles and connective tissue in the forearm that were there before surgery is still there too. Icing helps get new stuff in and old stuff out, which helps EVERYTHING.
2.
Inflammation Causes Vitamin B6 Deficiency
. It can't hurt to start supplementing with B6, it might help
a lot
if B6 deficiency is part of the problem.
----------------------
Please reply using the comment link below. Do not submit a new submission to answer/reply, it's too hard for me to find where it's supposed to go.

And, comments have a 3,000 character limit so you may have to comment twice.
-----------------------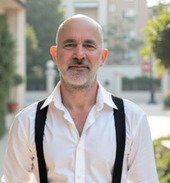 Joshua Tucker, B.A., C.M.T.
The Tendonitis Expert
www.TendonitisExpert.com