Peroneal Tendonitis.......ice dipping ?
hi joshua
as you know I have had this for some time , it's chronic, but have only just found out about your methods after being told about your website through a friend.
now, I have had some success by icing with frozen cups.
however, I have not done much ice dipping.
the reason for this is that the pain I feel is at the side and base of the foot, where the tendons attach.
now.....being as these tendons start further up might it be worth doing more ice dipping as one would for achilles pain?
as if my full ankle and foot is submerged this is going to force more blood and nutrients into the area than just ice cup massage alone?
from what I read it seems that ice dipping, if one can do it, creates a far greater turnover of blood and nutrients than any other form of ice therapy?
is it possible to spend a few hours continually going in and out with the foot?
by this I mean will 30 or 40 dips over an evening do no harm to the foot and indeed be very beneficial to a chronic tendon inflammation?
as much dipping as possible?
best wishes
paul
----
Joshua Answers:
Hi Paul.
Yes, Ice Dipping! As high up the leg as you can get it! Think big 5 gallon bucket full of ice, frozen water bottles, and water.
YES! 30-40 dips in an evening or over the course of a day. The more the merrier. You can't hurt yourself with 10 second dips.
I like to think about it like this:
Ice dipping is like squeezing a sponge. It gets the entire area, old stuff out, new stuff in.
Ice massaging forces cold in deeper into the muscle/structure, and also acts as a massage, mobilizing and breaking up stuck tissue.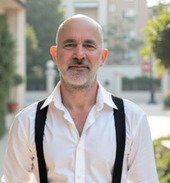 Joshua Tucker, B.A., C.M.T.
The Tendonitis Expert
www.TendonitisExpert.com