Persistant, abundunt, unhealing tendonitis in 17 year old female!?
by Melanie
(USA)
Hello! I'm 17 years old and have been suffering with tendinitis for 1 1/2 years, but already it's lost me an athletic scholarship, limited my mobility and made my life miserable.


Let me explain. I've been a runner since I was 12 years old and when I was 16 I began experiencing pain on the inside of my left ankle. I iced and continued running until I was forced to take a week off, then went back to running. (35-40 mile weeks, PRs: 11:35 2 mile, 5:30 mile)
Long story short, the pain progressed, I went to 4 months of PT, no more running and nothing helped. It got so bad I couldn't walk without crutches for a month.
When I was able to walk without crutches again, my pain was still severe and didn't respond to PT so the orthopedist put me in a cast for 6 weeks.
In that time I developed the same pain in my right ankle, to almost the same degree.
The cast made the issue worse and I was left with two bum ankles and no answers. We went to a surgeon and he said my pronating feet cause the reoccurring pain. He recommended reconstructing both feet- intense surgeries with 6 month recovery times.
Instead we decided to go to a rhumethologist and she discovered my thyroid was on the low end of normal. We fixed that (T-3 and T-4) and then I started getting prolotherapy in both ankles.
The prolotherapy doesn't seem to be helping but I still have hope for it.
My bigger concern is the severe wrist pain I've been experiencing for the past few weeks.
I have painful carpal tunnel-like symptoms in my right wrist and they feel like they're starting to develop in my left.
I'm so miserable- I feel like an accident waiting to happen. I can't run and now I can't swim. I feel so... old!
A few more facts:
-I'm not a hypochondriac and I have a high pain tolerance. I've given myself frost bite while icing my ankle and tend to ignore pain for as long as possible until it ruins my life.
-Dairy allergy discovered when I was 12.
-Underweight until I stopped running. Now I'm at a normal BMI, but I'm still small.
-Young caucasian female.
-Diet with lots of fruits and vegetables. Mostly vegan with the exception of eggs.
(No moral reason for diet, I just don't enjoy meat.)
-Low bone density, but I always forget to take calcium. (I know, bad!)
-Currently I take thyroid and vitamin D. Sometimes a kid's multi-v if I remember. Oh, and Celebrex.
-Severe IBS in the past, but I have it mostly under
control.
Recap: severe debilitating tendinitis in both ankles, more recent pain in both wrists.
Please help!! I feel so discouraged, I'm open to anything! I just want to be a kid again.
----
Joshua Answers:
Hi Melanie.
Yikes. Let's see what we can do for you!
First off, it's CERTAIN that you are Gluten Intolerant and Celiac Disease. And possibly parasites.
This sets you up for EVERYTHING that you just described.
There's no reason that you should have IBS at such a young age.
As far as the ankle tendonitis and pronation, if you are gluten intolerant (and have
Leaky Gut
), then you aren't getting all the nutrition from your food. Combined with you didn't eat enough protein.
So it makes sense that putting all those miles on your feet broke you down faster than your body could repair you.
Most doctors don't check for auto-immune markers when there is a thyroid issue. Nutrient deficiency combined with auto-immune issues from Celiac Disease can give you thyroid problems.
Also, check out the
Carpal Tunnel and Thyroid
connection. Potentially you are getting
Carpal Tunnel Symptoms
from that.
And/or, you can get them from Inflammation, as
Inflammation Causes Vitamin B6 Deficiency
.
Throwing a lot at you here....my point being, I think the MAIN cause of all this is nutritional deficiency, coming at you from a few different directions.
You HAVE to get off ALL gluten for two months and see what happens.
You HAVE to start taking nutritional supplements to make your deficiencies 'sufficient'.
You have tendonitis, and that's valid, AND, that's the least of your worries at the moment.
Kerri is the person to talk to about this. Check out more information at her website
www.Easy-Immune-Health.com
.
I can help you with the
Tendonitis
, but it won't help at all until you get the deeper systemic issues taken care of (and they just make take care of your tendonitis!)
See:
What Is Tendonitis?
So this is the beginning of a conversation.
More quetions, more answers.
----------------------
Please reply using the comment link below. Do not submit a new submission to answer/reply, it's too hard for me to find where it's supposed to go.

And, comments have a 3,000 character limit so you may have to comment twice.
-----------------------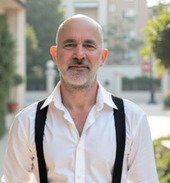 Joshua Tucker, B.A., C.M.T.
The Tendonitis Expert
www.TendonitisExpert.com