Plantar Fasiitis Surgery I should not have had
by Lynne Walters
(Darwin NT)
I had the operation to have a lump removed from the plantar fascia.


It's been 5 1/2 weeks now and I'm still in pain and not walking properly. It appears I have nerve damage now from the ball of the foot up to the tip of my toes and it burns and pains every night all night and if I had been warned of what could have happened I never would have had it done.
I am going back to the hospital tomorrow to find out what can be done. I could not possibly go through this pain for the rest of my life.
The operation was the sorriest thing I have ever done in my life.
Lynne
----
Joshua Answers:
Hello Lynne.
Sorry to hear about that....
1. I'm curious, what did your doctor have to say about your post-surgery symptoms?
Let me guess...more rest, more pain killers/anti-inflammatories, maybe a test or two, potentially another surgery 'to clean things up'. A referral to PT?
2. I suggest that you look into
Magnesium
and B6 and B12.
Plus more protein.
3. That nerve pain is either because the surgeon nicked/severed a nerve, or your body is freaking out for a variety of reasons including shock
from getting injured and/or B6/B12 deficiency.
4.
Tendonitis
, whether it's
Plantar Fasciitis
or otherwise consists of many factors, and can sometimes include a growth of tendon which may or may not be scar tissue.
The lump isn't necessarily a problem, nor a source of pain. Surgery cuts out the lump, but doesn't deal with any of the other factors, and can in fact make them worse and/or create new ones. It sounds like you've experienced this.
Let me know what the doctor said, and we'll go from there.
----------------------
Please reply using the comment link below. Do not submit a new submission to answer/reply, it's too hard for me to find where it's supposed to go.

And, comments have a 3,000 character limit so you may have to comment twice.
-----------------------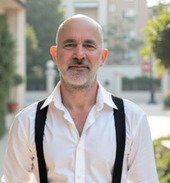 Joshua Tucker, B.A., C.M.T.
The Tendonitis Expert
www.TendonitisExpert.com