Right Shoulder Impingement and pain, facing surgery, nothing has helped
by Ajit Kumar Singh
(Bangalore, Karnataka, India)
Hi Joshua,
Can you please help me out of this pain? Myself Ajit Singh from India, I came to know about you from Internet.
I will explain you my problem, I am right handed and had an accident on 04th Jan 2009 and my right shoulder get injured. Nothing comes in x-ray.
As per the orthopedics I put arm sling for 25 days and take rest almost 6 months but its not really helped me out.
Now my right hand is little bit thinner than left hand and also has some pain while moving my hand in outside or inside 90 degree. Then after 7 months I consult with another orthopedics and done MRI scan as doctor says.
In MRI scan they found some problem, which is mentioned below. Please have a look.
1)TYPE 1 ACROMION PROCESS WITH SMALL OSTEOPHYTIC LIPPING / EBURNATION UNDER SURFACE OF TIP OF THE ACROMION COMPROMISING THE SUPRASPINATOUS OUTLET WITH IMPINGEMENT OF SUPRASPINATOUS TENDON AND MILD TENDINOSIS. NO EVIDENT ROTATOR CUFF TEAR.
2)THIN LAMELLAR FLUID IN SUBACROMIO-SUBDELTOID BURSAL REGION AND IN BICIPITAL GROOVE-POSSIBLE SEQUALAE OF SUPRASPINATOUS IMPINGEMENT.
After that they start my treatment. Treatment & medicine are mentioned below.
1)Avoid lifting, heavy weight.
2)Heat therapy (Nexcare First Aid – 3M) – Warm with water then apply.
3)Hifenac P Tab (1 – 0 –1) After food, 7 days.
4)Pantorite 40 Tab (1 – 0 –1) Before food, 7 days.
5)Dicloran ms 30 gm Gel (10 Days, Local apply)
6)Physiotherapy – VSW/IFT (15 Days)
Than in next visit after 2 weeks they gave some another medicine & Exercise guideline.
1)Hifenac P Tab (1 – 0 –1) After food, 7 days.
2)Rantac 150 MG Tab (1 – 0 –1) Before food, 7 days.
3)Some Exercise. (e.g. – Right hand should pull up and down some movement etc.)
Now, They are telling if this will not cured then we have to do one small surgery. Like one hole in shoulder and they will cut some impingement area. (Not enough idea about the surgery)
Please help me on this. Should I go for surgery or it will be cured after sometime after doing some exercise and heat/cold therapy?
And also let me know what will happen if will not do the surgery? Waiting for your valuable reply and heartily thanks in advance.
Regards,
Ajit Singh
----
Joshua Answers:
Hello Ajit.
Thanks for all the details, but I need some more.
1. What was the accident that hurt your arm? How exactly did it happen, what did it look like if I was watching?
2. I don't know what all those meds are. I assume that they are anti-inflammatory medicine, muscle relaxers, and pain killers, yes?
3. Does it hurt to move your arm now? A lot? A little? In what directions or activities?
4. Does it hurt on top of the shoulder, in the armpit area, down in the arm itself?
5. What are all your symptoms? Pain, numbness, tingling, loss of range of motion, etc?
6. Have you have any previous pain, problem, or injury?
Answer those questions and I can offer you better suggestions.
On other topics:
* I personally wouldn't get the surgery. It doesn't sound like they know how to fix your shoulder now, I don't expect they would be able to with surgery either.
* It sounds like you have a shoulder impingement dynamic. The surgery won't fix the actual SOURCE of the problem, but it will injure you more. Read this
Shoulder Impingement
page.
*
Rest
won't cure this. Nor will any of the pills you've been prescribed. Nor will time in a sling or brace.
* Ice is your best friend right now. Learn
How To Reduce Inflammation
.
Answer the questions, and let's go from there.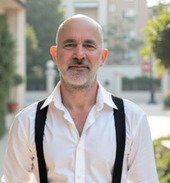 Joshua Tucker, B.A., C.M.T.
The Tendonitis Expert
www.TendonitisExpert.com