Rotator cuff injury, 67 years old and nothing is working
by jocelyn
(spain)
I have had pain in my shoulder and forearm for the last nine months and in spite of physio, rest, homeopathy, painkillers, anti inflammatories it is as bad as ever.
I am 67 years old and reasonably active but have had to limit my tai chi and yoga classes because of this pain.
I have tried your ice massage method and had some relief but as soon as I stop icing the pain returns. I have just had a MRI scan and the diagnosis (I'm in Spain so the translation might be iffie) is "partial tear of the supra espinosa, tendonitis and grade two impingement of the rotator cuff with osteophytes."
You don't have the promised page on rotator cuff problems up yet on your website so I am hoping you can give me some individual advice before I see the specialist next week.
Thanks in advance,
Jocelyn
----
Joshua Answers:
Hello Jocelyn. I'm sorry to hear you are still in shoulder pain.
As far as the promised Rotator Cuff pages...yeah, that's on the list. Good news/bad news, I keep adding content to this website in various directions. Shoulder is on the list....one thing at a time.
And, I'm sorry it's not available to you as you really need it right now.
So, let's see what we can do for you here.
In no particular order, I'm going to touch on a couple things and then expand on them later as needed:
1. Anti-inflammatories, pain-killers, and rest never cure Rotator Cuff tendonitis. They -can- help take the pain away...but really are not a helpful treatment.
Physio and Homeopathic remedy, depending on what exactly the problem is, can be good options or not. I'm not going to talk down about anything, but there is a RIGHT tool for every job, and the physio may or may not know and use the right tools.
2. Impingement of the shoulder cuff really just means that your surrounding muscles are super tight, stuck super tight, and are pulling your arm and neck into your shoulder, basically.
When a joint is compressed and you move it around, it grinds it's inner surfaces. This irritant can cause arthritis and/or bone spurs (osteophytes).
3. The shoulder is the toughest to self-care for as it's awkward to
get to and there is a lot of muscles mass and different structures.
4. If there really is a tear in the supraspinatus muscle tendon, that's not so good. You may need some specific kind of manual therapy to help that heal, as well as the self care we'll talk about.
Plus, a tear is going to create a lot more pain dynamic in the area, which helps explain why the pain comes right back after you ice.
In general, you have to ice LIKE CRAZY for a certain period of time to overwhelm the
The Pain Causing Dynamic
.
5. Bone Spurs - may or not be a permanent problem
Tendonitis - not such a problem
Impingement - no problem
Tear in the tenon - likely your biggest problem at the moment.
If I could work on you in person for a week or two, it would be worth the trip to the states.
However, as that's not so likely to happen, if you stick with me in this conversation, I can provide you a lot of value, and I'll stick with you till you're as out of pain as you can be.
Questions to answer:
1. How would you rate your overall health?
2. Have you ever had any traumatic injury to the neck/shoulder/arm, like a car crash, falling off a horse, etc.
3. Did something happen 9 months ago that started this?
4. Have you had pain here before, even a little?
5. Any other injury/pain happening in your body?
6. Anything else I should know?
Answer these questions to give me a better idea of what is going on, then we have a lot to talk about before you see your doctor.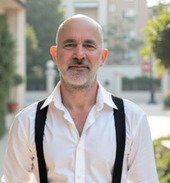 Joshua Tucker, B.A., C.M.T.
The Tendonitis Expert
www.TendonitisExpert.com