Soccer Player 30 Years After Achilles Tendon Surgery
by Peter P
(Midwest)
In April 1982 while Playing NCAA Division 1 College soccer game, I popped my left achilles tendon, a most painful experience.


I was fortunate that a professional PHD Athletic Trainer was present, becuase I was clueless to what happened. My tendon had a visible indentation and it appeared that when I walked, I was stepping in a hole. The Trainer immediately applied an air cast with ice and I was rushed to a quality midwest hospital.
A semi retired surgeon was flown in to perform the surgery. He examined the xrays/pictures and explained that there are 2 ways to treat 1) re-attached thru surgery or cast but studies have shown that surgeries are more successful.
I spent the next 4 months wearing various cast and enduring endless stories of never playing again and that I should worry about walking properly.
I eventually had my last cast removed and was shocked on seeking my left foot looking like bones covered with skin. It was very weak. I started my rehabilitation immediately, by elevating my foot from the perch of a dictionary several times per day to gain strength and flexibility. Within weeks I was walking without significant limp. I returned to college from the summer break in August of 1982 and started ice cold water therapy and later ultra sound was added.
I returned to my full time starting position in early September of 1982. However, before each game my ankle and the point of injury received a special wrap which felt like a micro cast. I went on to play 3 more years of College Soccer receiving numerous awards including All American, after college I played professionally in Canada briefly before retiring to recreational leagues.
Its been thirty years and the only discomfort I have is sometimes (every couple years) I feel a shocking pinch on
the inner left part of the repaired tendon, otherwise I have no discomfort.
Question: What causes this pinching discomfort? (It eventually goes away and I am able to return to playing)
----
Joshua Answers:
Hi Peter P.
You didn't say it, but I'm thinking that you had the Achilles tendon surgery.
Achilles Tendon Rupture
is generally bad news. I've heard from a couple people that they ruptured theirs but could still stand and walk. Generally, if the Achilles ruptures, one can't put any weight on the foot, certainly can't walk, and surgery is the necessary (if at all possible) option.
It sounds like your recovery went pretty darned well.
SO now you have pinching pain on the achilles tendon.
It's safe to say that you have all the factors that make up
Tendonitis
See:
What Is Tendonitis
But as far as the pinching pain symptom/sensation, I need to know more.
1. How bad does it hurt?
2. Define/describe 'pinching'.
3. How long does it hurt? When does it go away?
4. What makes it start hurting? Does it always make it start hurting?
5. Anything else relevant and/or of interest?
----------------------
Please reply using the comment link below. Do not submit a new submission to answer/reply, it's too hard for me to find where it's supposed to go.

And, comments have a 3,000 character limit so you may have to comment twice.
-----------------------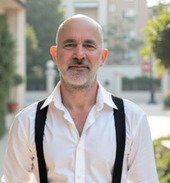 Joshua Tucker, B.A., C.M.T.
The Tendonitis Expert
www.TendonitisExpert.com