Strong Sharp Pain and Tingle. Do I have Wrist Tendonitis?
by Katy
(South Carolina)
I'm 17 years old. I do cooking, cleaning, and lift heavy objects daily.


I've be doing the same things for years. Just recently I have been getting a strong sharp pain through my wrist and hand but it goes away in 30 minutes but a tingle will linger for a while.
I don't get it everyday, but then randomly it will come back and it hurts worse than it did the first few times.
I asked my school's athletic trainer, he said it might be tendonitis.
Do i need to go to a doctor?
----
Joshua Answers:
Hi Katy.
I would never suggest that somebody not see a doctor to get worse case scenario's ruled out.
Tendonitis
can look like/feel like a variety of different thigns. And realistically, it's more of a -dynamic- than an actual injury in most cases.
So, do you have an actual tendon injury? Unlikely.
Do you have a dynamic where the muscles in your forearm, whose tendons cross the joint and attach to the wrist and hand and fingers, are too tight and increasingly unhappy?
Yes.
Do you have a slowly increasing
Pain Causing Dynamic
and
Process of Inflammation
?
Absolutely.
Do you have some nutritional
insufficiency/deficiency?
Probably.
Is the tingle bad?
Not necessarily.
Will the pain slowly get worse and last longer unless you do something effective for it?
Predictably, yes.
1. Where exactly do you feel the pain and tingle?
2. Any history of injury?
3. Overall health?
4. What does your daily food intake look like?
5. One arm or both?
6. Anything higher up the arm, shoulder, or neck?
----------------------
Please reply using the comment link below. Do not submit a new submission to answer/reply, it's too hard for me to find where it's supposed to go.
And, comments have a 3,000 character limit so you may have to comment twice.
-----------------------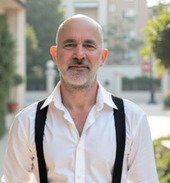 Joshua Tucker, B.A., C.M.T.
The Tendonitis Expert
www.TendonitisExpert.com