Tendonitis for 6 months, as a teenager. Can't workout properly and therefore can't be happy. Depressed.
by Ben
Hey Joshua, I've had Tendonitis for almost 6 months now, I'm 18 years old , and 6 months ago, at the gym I tried doing a bicep curl with a straight bar that was tied to the ground and unfortunately kept going while I was in pain. This has caused me to hurt my wrists and basically prevent me from doing any physical activity, as I am scared to injure myself again.


I've went to several doctors. None of them seem to help me. I'm at a loss.
Both my wrists are popping in the ulnar side right where the wrist connects near the pinky and my left wrist hurts when I touch the "TFCC" or that area, not sure if that means anything.... Anyway, I've been reading a lot on your site, been taking B6, Curcumin, sometimes Magnesium, but I stopped as I am not doing any work so my muscles shouldn't be tight (right?).
Basically, as I said, I have no idea what to do. I really want to go back to working out and doing sports. It's honestly something that makes me happy. Would love for help. Thank you so much anyway.
Also, my left hand where the wrist connects near the "TFCC" area is a bit swollen. Not sure if it relates but would also love help with that.
----
Joshua Answers:
1. "but I stopped as I am not doing any work so my muscles shouldn't be tight (right?)."
Totally not right. :) I say that with a smile, but still, totally not right.
We presume our muscles go back to a fully restful state when not using them, when sleeping, etc...but....when things get tight the brain resets the baseline...so tight becomes the new norm, and you stay too tight because that's the new 'loose and relaxed'.
The brain is really brilliant in some ways...and pretty stupid in some ways. This is one of those ways.
2. "I've went to several doctors. None of them seem to help me. I'm at a loss."
If it's any consolation, so are your doctors. They just don't know what's going on in a scenario like this. Gunshots, yes. Car crashes, yes. Something subtle like tendonitis symptoms? Complete mystery.
It's not their fault, they just have no training in it, and the standard
of care training they do get....it's....lacking.
What they are at fault for is not spending 5 minutes trying to figure it out. This stuff isn't rocket science, it's just the bare bones basics of how the body works (or doesn't work, as the case may be).
3. Give
Magnesium For Tendonitis
another read.
4. Read
Pain Causing Dynamic
.
5. See:
14 Year Old With Weird Wrist Pain Either Carpal Tunnel Or Tendonitis
.
See:
14 Year Old With Achilles Tendonitis Can't Get Rid Of It
.
See:
Aching And Painful Wrists Since Age 14
.
I just picked some posts with '14 year old' in them, to make the point that tendonitis is showing up earlier and earlier. Teenagers are getting it.
And for good reason. You've grown up with terrible low nutrition diets. Plus rarely go outside (less sunshine and other outdoor active benefits). So your bodies aren't as strong and resilient as the could be/should be.
So your bodies aren't working as well, can't recover as well, so you're 17 and can't handle relatively easy activity at a gym.
You don't have a disease or whatever, you're just driving down the road with an oil tank that's 3/4 empty. Engine's just not going to run as well as you might want it to, certainly not as well as you'd expect it to...but in actuality probably running a lot better than it should be.
6.
Tendonitis
is tendonitis no matter where it shows up. It's a dynamic made up of multiple factors. There's some variety to it and some different flavors, but it's all the same, and there's very little mystery to it.
See:
What Is Tendonitis?
You have some swelling at the TFCC, that's a particular flavor of your scenario. I wouldn't focus on it, I'd focus on the larger ecology that is resulting in specific things you notice.
----------------------
Please reply using the comment link below. Do not submit a new submission to answer/reply, it's too hard for me to find where it's supposed to go.

And, comments have a 3,000 character limit so you may have to comment twice.
-----------------------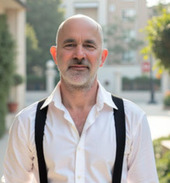 Joshua Tucker, B.A., C.M.T.
The Tendonitis Expert
www.TendonitisExpert.com