14 year old with weird wrist pain, either Carpal Tunnel or Tendonitis!
by Dylan S.
(Toronto, Canada)
I am 14 years old and i have pain on the top of my wrist around an inch behind the middle finger knuckle and pushing this against the wall a lot creates pain.


I get nearly no numbness. I thought this may be carpal tunnel syndrome but i believe it might be tendinitis!
When i push on this specific area (which feels like a long tendon) i get pain.
please help! will this go away? will i grow out of this?!
im only 14 and i do very little repetitive motion. i Might have injured it a few weeks ago and it has been trying to heal.
does that make sense, please help?!
----
Joshua Answers:
Hi Dylan. That does make sense.
I really doubt it's
Carpal Tunnel Syndrome
, but you implied that there is some numbness, so that gets me curious.
But I'd lean towards
Tendonitis
at this point.
Still, I need more information.
Questions:
1. How did you injure it?
2. How/when/where do you experience numbness?
3. When you feel around that painful spot, is it directly on a tendon? Is there a hot spot on the tendon?
4. What repetitive motion -do- you do? texting, computer, video games, writing, etc.
5. Overall health?
----------------------
Please reply using the comment link below. Do not submit a new submission to answer/reply, it's too hard for me to find where it's supposed to go.
And, comments have a 3,000 character limit so you may have to comment twice.
-----------------------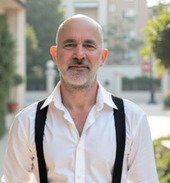 Joshua Tucker, B.A., C.M.T.
The Tendonitis Expert
www.TendonitisExpert.com