Tendonitis In Pelvic Region, Male High School Track Athlete
by Concerned Parent
My son competes on the high school track team.


All season he has struggled with pain in the pubic bone region. Sprinting was the aggravating activity. When we had him examined, the diagnosis was tendonitis from the action of the abdominal muscles and adductors which tie in to the pubic bone.
He had been icing and taking ibuprofen to try to continue to compete, but the pain continued to worsen. He has been done with track for two weeks now; so he is lifting, but has quit running hoping to help things heal. He still has some pain, not more, but not significantly less.
He continues to ice after lifting but has discontinued the ibuprofen.
Please advise us as to how we can best bring healing at this point.
----
Joshua Answers:
Thanks for asking, I'm happy to help.
I need more information to get a better idea of what exactly is going on.
1. How old is your son?
2. Is he still in the growing/growth stage?
3. What is his history of athletics? How long has he been sprinting, running, active, etc.
4. How long has he had pain. Did it show up all of a sudden, or start small and slowly get worse over time.
5. Please say a little bit more about the diagnosis. If you were told that the diagnosis "was from the action of the abdominal and adductors..." that's a pretty broad area.
6. Where exactly does he ice?
7. Does he have pain anywhere else?
8. When sprinting aggravated it, did it hurt during the sprint, or later after practice?
9. If sprinting caused immediate pain, where exactly did it hurt, and please
describe the pain.
I have two thoughts to share, and I'll withhold the rest until I see the answers to the above questions.
A. I doubt that he has the wear and tear damage kind of tendonitis. I'm guessing at this point that his inflammation of the tendon, if that's what it actually is, is from muscles being WAY too tight and putting too much tension on the connections. That makes the nervous system very unhappy and creates pain.
B. As he is young, rest -may- fix the problem. It could just be growing pains related, and/or he'll just grow out of it.
It is predictable, however, that a particular
Pain Causing Dynamic
has begun.
This means that even if the pain goes away, it's likely that to a small or large degree, this pain pattern will revisit you son, especially if he stays a sprinting kind of active.
My point being, let's find the problem and disrupt the pattern. Or at the very least show him how to manage this so he can keep himself pain free for the next 70 years.
I look forward to your answers.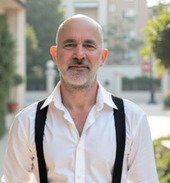 Joshua Tucker, B.A., C.M.T.
The Tendonitis Expert
www.TendonitisExpert.com