Tendonitis pain in wrist after Carpal Tunnel Surgery, Workers Comp hassle
by MARY
(CHANDLER,AZ. US)
I had carpal tunnel surgery over a year ago and it took care of the pain I was having. Now I have pain in my wrist. It limits range of motion as far as turning my wrist or picking or carrying anything too heavy.


I'm fighting with Worker's Comp on this since my doctor said it was Tendintis.
According to the Worker's Comp people you can get this from having Carpal Tunnel. Is this True?
I really need an answer because I never heard of that before.
What can I do to help relieve the pain and my motion in my wrist?
Thank you.
Mary.
----
Joshua Answers:
Hi Mary.
I changed your ALL CAPS to regular case, please reply in normal case.
1. I can definitely help you with the pain and tightness.
2. I'm not clear on the issue with Worker's Comp. Did you get CTS and surgery for it due to work? And now Worker's Comp is saying the
Tendonitis
pain is not related?
Please clarify.
3. Yes, you can develop tendonitis after Carpal Tunnel. And especially after CTS surgery.
Both are the result of a
Pain Causing Dynamic
.
CTS surgery doesn't get the ecology of your wrist/forearm back to 100%. Tightness and such is still present, possibly more so.
You'll need to tell me more about what's going on.
4. For the immediate benefit, start Ice Dipping as described on the
How To Reduce Inflammation
page.
----------------------
Please reply using the comment link below. Do not submit a new submission to answer/reply, it's too hard for me to find where it's supposed to go.

And, comments have a 3,000 character limit so you may have to comment twice.
-----------------------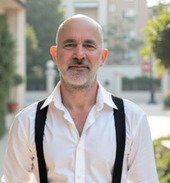 Joshua Tucker, B.A., C.M.T.
The Tendonitis Expert
www.TendonitisExpert.com