They say I've got tennis elbow/tendonitis, with burning shooting pain in my upper arm, forearm, and hand
by charlie
(uk)
But why does my upper arm hurt dreadfully as well as my forearm and hand. I get terrible sudden shooting pains in my hand, forearm and upper arm, almost as if a red hot needle is being driven into my arm.


My hand goes purple sometimes, and I cant lift anything at all without great pain. Numbness in hand, fingers, and no proper grip.
2 months ago it started, its getting worse, gp referred me for physio, still waiting for it, have paid for private osteopathy but its not helping.
Ice gel/packs only help for a short time. The swelling and heat has gone out of my arm now though.
I think Ive broken my arm somewhere but nobody agrees. Cant get an x ray.
I think it started when I was at work, a combination of repetitive use of machinery and a bad bruise on upper arm when trying to get the machinery out of the storage area when I bumped into the door.
would be gateful for some advice please.
many thanks.
charlie.
----
Joshua Answers:
Hi Charlie.
Technically I can't give you advice, but I can give you suggestions.
But before I can even do that, I need some more information.
So, some questions.
1. How old are you?
2. 2 months ago, did this come on fast, or slow?
3. Purple??!? Say more about your hand going purple. When? How? For how long? After doing what?
4. Describe the shooting pain.
5. Describe the other pain. How bad, how often there, how
long does it last, etc?
6. What exactly caused the bruise? How 'bad' was the bruise, and was it a deep one, or superficial one? Did you bruise the bone?
7. Who exactly says that you have tennis elbow/tendonitis?
8. Overall health?
9. Overall nutritional intake?
10. History of pain or injury in this area? Neck injury and/or car crash?
11. Why exactly do you think you broke your arm? Where do you think you broke it?
12. Where was the heat and swelling in your arm that you say is now gone?
Let's start with that. The more details you can provide, the better. (You might have to break it into two 'comments' as there is a 3,000 character limit).
Give me some more info, and I'll be better able to offer some helpful suggestions.
----------------------
Please reply using the comment link below. Do not submit a new submission to answer/reply, it's too hard for me to find where it's supposed to go.
-----------------------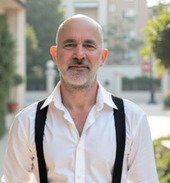 Joshua Tucker, B.A., C.M.T.
The Tendonitis Expert
www.TendonitisExpert.com