Tingling and numbness in fingers - is it Carpal Tunnel Syndrome?
by Janusz
Hi Joshua,


First of all, thanks for this informative web site.
I'm a computer programmer, and I spend a LOT of time typing. I recently changed work locations, and for the last few weeks typing is not as comfortable as it used to be. Over the last few days, I have started to experience tingling and some numbness in my left little finger - and in the next finger (but to lesser extent). I have experienced this CTS sensation both in my little fingers, years ago, but never to this extent -
I've been feeling this since yesterday now, and it's not lessening.
I started doing exercises and I'll be re-arranging my workspace to lessen the strain on my hands, but I wonder what it is that I'm experiencing (CTS?), and what state it's at (early, mid, etc.).
There is no pain, just the sensation of my fingers being asleep (tingling, numbness). There is also a bit of a tingling sensation in the top part of my left wrist.
Any thoughts or suggestions would be greatly appreciated. I thank you very much in advance.
Janusz
----
Joshua Answers:
Hi Janusz.
You're welcome!
So is it early stages? Well, even though you had symptoms a long time ago, they're back, so it depends on how you define 'early'. By time passed, or severity of symptoms.
I just look at things as a spectrum from not tight to TOO TIGHT.
Whether your numbness is coming
from your wrist, forearm, front of chest/shoulder, or front of neck, or a combination of all of the above, SOMETHING is stepping on the hose of your nerve.
Should we call your symptoms
Carpal Tunnel Syndrome
?
I wouldn't, as if your numbness/tingling is in your little finger and the one next to it, that's more of a cubital tunnel syndrome/tennis elbow kind of situation.
If the
Carpal Tunnel Symptoms
are in your thumb and first three fingers, that's more CTS.
But some or all of both can still be coming from higher up the arm/chest/shoulder/neck.
Your symptoms aren't lessening or going away this time? Yep. That's exactly the predictable pattern of the
Pain Causing Dynamic
.
That's just how the
Tendonitis
dynamic works.
More questions, more answers.
----------------------
Please reply using the comment link below. Do not submit a new submission to answer/reply, it's too hard for me to find where it's supposed to go.

And, comments have a 3,000 character limit so you may have to comment twice.
-----------------------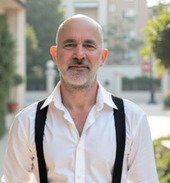 Joshua Tucker, B.A., C.M.T.
The Tendonitis Expert
www.TendonitisExpert.com