Ultrasound Exam Results Show Thickening of Achilles Tendon
by F
Ultrasound exam results showed up " thickening " of Achilles tendon sheath ? Is this tenosynovitis


And is the treatment the same ?
----
Joshua Answers:
Hi F.
Does the achilles have a tendon sheath?
Technically the achilles tendon does not have a tendon sheath, or 'synovial sheath'. But does have 'paratenon'...which is a sheath...
For our purposes, let's go with that yes, there is a tendon sheath around the achilles.
But even that is splitting hairs a little, as the achilles tendon is the achilles tendon, with some inner/outer structural variation.
So...thickening. Yes that happens.
The body is always changing, and depending on how one does or doesn't use their body, age, overall health, bodyweight and composition, etc.
A thickening of the tendon sheath isn't necessarily a bad thing.
If you have pain with it, that's a different story, and then it could certainly be, essentially,
Tenosynovitis
.
Ultimately, the treatment is the same as for
Tendonitis
:
1. Relax the muscles, open up the connective tissue.
2. Ice Dip and Ice Massage.
3. Cover bases with Vitamin D level up where it's supposed to be,
Magnesium for Tendonitis
to help relax muscles/stop spastic tightness.
See:
What Is Tendonitis?
See:
Achilles Tendonitis
Tenosynovitis is a variation of tendonitis that is more stubborn, more acutely painful, and a bit tougher to get the inflammation out.
----------------------
Please reply using the comment link below. Do not submit a new submission to answer/reply, it's too hard for me to find where it's supposed to go.

And, comments have a 3,000 character limit so you may have to comment twice.
-----------------------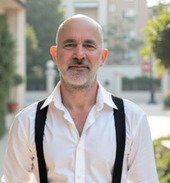 Joshua Tucker, B.A., C.M.T.
The Tendonitis Expert
www.TendonitisExpert.com