Varied pain in lower arms (elbow down), persisted for 10 months now, doctors supremely uninterested.
by maeludir
Fine motor control in my hands (typing, moving an analogue stick on a controller etc), as well as sustained gripping (holding something) and resting my arms on a hard surface for even a short amount of time, causes intense generalized 'discomfort'.


It moves around, it can persist for days after the offending activity has concluded, and it can take different forms: from a mild hot/cold 'burning' sensation, to stiffness in the wrist, to - in extreme cases - limited range of motion at the elbow.
When my symptoms are flaring up, the arteries on my arms are bulging quite massively. (I assume arteries because veins would be blue?). They also feel incredibly wiry, even when my symptoms aren't flaring up. I've compared with family members, and their arteries feel positively tender by comparison.
I've suffered these symptoms for nearly a year now, and as best I can recall their initial onset was after I injured myself at work by trying to pull something that was stuck. I tore something in my upper-central back (neck/shoulder area) and was in agonizing, debilitating (literally, was in bed for 16+ hours) pain.
First occurrence of this arm pain was maybe a week or two after that, and that was while clicking repeatedly with my mouse.
I've had 'blood tests' that show nothing wrong (what exactly they tested for I don't know, but I assume whatever the 'generic' blood tests are).
I've seen a physiotherapist, who claimed my problem wasn't musculoskeletal, and suggested it was circulatory.
I've had a nerve conduction test, which concluded I didn't have carpal tunnel.
I do have raynaud's syndrome, have had for as long as I can remember - my hands are particularly painful in the cold, and go all sorts of pretty colours. (Mostly of the corpse-like palette)
I spend, and have spent, a hell of a lot of time at a computer desk since I was a young boy. I've always been conscious of the importance of ergonomics, but I am definitely guilty of hunching and poor sitting posture (but my arms have been in the correct 'neutral' position since the very early days).
I'm not overweight, at all. I'm possibly underweight (the internet is vague on what exactly defines underweight). I have a physically demanding job that I do for 16+ hours a week, but that constitutes the entirety of my exercise.
My diet has been, until recently, fairly awful: too much sugar. Multiple chocolate bars per day, as well as cake and such.
I am desperate, as shown by my willingness to pay for an internet diagnosis. Without my computer I have little recreation, and no social life.
I've been 'living' at an extremely diminished quality of life for nearly a year now (10 months), and I've gotten to the point where I'm desperate enough to battle through the pain occasionally just to get some semblance of my life back.
Those are all the pertinent details I can think of.
----
Joshua Answers:
Hello Maeludir.
Thanks for all the details.
1. I can't diagnose, but I can certainly assess, ask some questions, and make some assertions.
2. Call your doctor(s) who did the blood test, and see if they tested your Vitamin D levels. Probably not, but make the call just to confirm.
If they did, what was the level?
3. Does the back still hurt?
4. You probably are referring to veins, if they're right under the skin.
5. There may still be something musculoskeletal from that back injury, but for the most part, it sounds....
6. Like a nutritional insufficiency issue.
Why do I say that?
A. A lifetime of eating sugar and cake etc. Leaves you in a hole, nutrition-wise.
Tendonitis
in all it's many forms can show up because of that.
See:
What Is Tendonitis?
B. Raynauds 'disease'. Which may be an actual genetic thing to whatever degree, but may also just be (to whatever degree it is) a lack of appropriate nutrition.
C. A lifetime of sitting in front of the computer. Meaning, not outside in the sun. Meaning, it's a certainty that you are Vitamin D insufficient and probably deficient. Just Vit D deficiency could explain some/all of your symptoms.
D. Trauma/pain eats up nutrition. Mental stress eats up nutrition. Specifically, Magnesium.
If you're type A personality at all, you have higher than normal Magnesium requirements.
See:
Magnesium For Tendonitis
E. You have a chronic
Process of Inflammation
in place.
Guess what inflammation does?
Inflammation Causes Vitamin B6 Deficiency
Guess what causes Raynauds-like symptoms? Lack of B6.
Essentially, from what you've described/experienced, my first plan of attack would be nutritional.
If you are short of nutrition (you are) then you're body can't work right. So even if you do have something musculoskeletal, you have to cover the nutrition or 'physical' self care won't work very well.
I'd rate your symptoms being 80+% from lack of nutrition (probably more like 90+%, but I'm hedging my bet).
I'd get my
Reversing Wrist Tendonitis
program, it covers all the nutrition I'd suggest to you. After a while on that, see the results, and if necessary you can use the other self care for anything 'physical' left in your hands/forearms (and if you're clever, shoulder and back).
Let me know if you have questions, etc.
----------------------
Please reply using the comment link below. Do not submit a new submission to answer/reply, it's too hard for me to find where it's supposed to go.

And, comments have a 3,000 character limit so you may have to comment twice.
-----------------------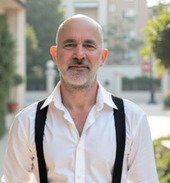 Joshua Tucker, B.A., C.M.T.
The Tendonitis Expert
www.TendonitisExpert.com