Wrist Pain In Guitar Player - Wrist Tendonitis and or Intersection Syndrome??
by Gary
(Ireland)
Hi Joshua


I have had a chronic low grade pain in my left wrist for about 8-12months.
I play guitar also but not excessively. I never noticed the pain whilst playing and i wouldnt stop playing because of it, but would have a feeling of slight tightness in the lower forearm and wrist all on the top side of the limb(ie back of hand side) immediately after stopping but only for about a minute.
The only time i would notice pain would be if i loaded the wrist whilst flexed at 90 degrees, like a press up. The pain occurs at the wrist in line with your first finger on the top side of the wrist at the wrist-hand junction where you flex up and down. I have no thumb pain (although a little tender in parts of the thumb pad) and dont test positive with a finkel test.
The pain has progressed over the last 2-3 months to an intermittent discomfort like a bruised feeling and i started to have to wear my watch on my right wrist.
The location of this discomfort is approx 3 inches behind the wrist on the top of the lower forearm(where your watch would sit)and favors the thumb side of the arm.
The pain fits the location i have found on the internet of intersection syndrome. I stopped playing the guitar for about a week now as that was the only activity that i found actually caused it to hurt/ache-but not a sharp pain( i even did digging in the garden and i had no pain afterwards!) the only other time i would get a proper sharp pain would be holding up a heavy mixing bowl in the kitchen to scrape something out of it, this causes a sharp pain more so in the first compartment of the wrist ie slightly more toward the thumb and in front of the pain i get with the pressup position.
I have purchased your
Reversing Guitar Tendonitis program
and have started.
What do you think of my symptoms and
will this book cover an intersection syndrome type presentation, ps i experience no pain on the flexor side of the forearm.
Many thanks
Great website!!
----
Joshua Answers:
Hi Gary.
Thanks for all the details. That very much helps.
FYI, guitar tendonitis doesn't have to be on the flexor side.
In general,
Tendonitis
can show up anywhere. Said another way, if you have, say, Wrist Tendonitis, that could show up anywhere on/around the wrist.
See:
What Is Tendonitis?
Do you have intersection syndrome? Maybe. A syndrome is just a label for a collection of possible symptoms.
Do you have a chronic
Process of Inflammation
?
Yes.
Chronic tightness of muscle and connective tissue?
Yes.
Do you have a specific dynamic where playing guitar causes irritation?
Yes.
Do you have any damage? Probably not. Are you rather stuck in a spot in a
Pain Causing Dynamic
? Looks like it. Let's get it before it gets any worse.
The ebook will describe, overall, what you need to do. It will also speak to how you need to find and then OPEN the connective tissue where you're stuck (which may or may not be where you feel pain).
Conceptually, it doesn't matter whether you have 'tendonitis' or 'intersection syndrome'. Either way you have to get the inflammation out, deal with any connective tissue constriction, and make sure nutrition isn't an issue.
----------------------
Please reply using the comment link below. Do not submit a new submission to answer/reply, it's too hard for me to find where it's supposed to go.

And, comments have a 3,000 character limit so you may have to comment twice.
-----------------------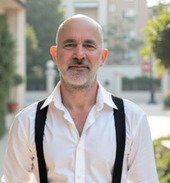 Joshua Tucker, B.A., C.M.T.
The Tendonitis Expert
www.TendonitisExpert.com