Wrist Pain Possibly from Snow Boarding, Wrist Tendonitis or Wrist Injury?
by Rachel
(MA)
I have been having a good amount of wrist pain and i can't pinpoint what to do to make it stop.


I have no health insurance so i cant just go in and check when i want. i've tried putting a wrap on my wrist, a splint. this has been going on for at least a year.
I do snowboard so i don't know if i did some injury to it then. but on certain days i cannot put pressure on my wrist what so ever.
i have to find other ways to do things that will not put pressure on it. it is right where you wrist and your hand bends that i am having the problem. sometimes the pain will spread into the top of the hand. i have even tried icy rub.
Help
----
Joshua Answers:
Hi Rachel.
Well, I'd need more details to have an opinion.
Because you either have a really bad case of
Wrist Tendonitis
, or a wrist injury possibly including a fracture, a torn tendon or ligament, etc.
Or something weird like cancer in the wrist.
Questions:
1. How long has this pain been going on?
2. Did it come on suddenly out of the blue (like right after a snowboarding fall or crash, or the next day) or did it come on slowly and get worse and worse.
3. Describe the pain.
4. Is it constant 24/7, or does it come and go.
5. What all have you done for it. Has it helped a little or a lot?
----------------------
Please reply using the comment link below. Do not submit a new submission to answer/reply, it's too hard for me to find where it's supposed to go.

And, comments have a 3,000 character limit so you may have to comment twice.
-----------------------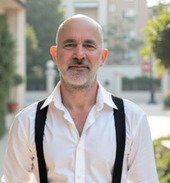 Joshua Tucker, B.A., C.M.T.
The Tendonitis Expert
www.TendonitisExpert.com