Wrist Tendonitis Since I Was 7
by Spencer
(CA)
First of all, thank you Mr. Tucker for taking my message. I have had recurring
what I think to be
tendonitis since I was about 7 years old.
I am 16 now, and I have been experiencing it in my right wrist since I was about 7 and in my left wrist, just in the last two years or so. I feel it just in the wrist between the bones of my forearm and my hand, the muscles of my forearm and hand haven't ever been tender, but if so, so little that I don't notice.
I will have it off and on; for a week or so it will hurt and then stop for a month and hurt for two weeks... but rarely both wrists at the same time.
I've tried to not let it interfere with my daily life, but I'm sick of it and I want it to be better. I assume its from typing on the computer and playing too many video games (I don't play a lot of video games anymore, just when I was younger) and I try as often as I can to type without resting my wrists but I slip up.
I just don't know what to do anymore, every time I think its gone, it comes back. Could you help me out?
----
Joshua Answers:
Hi Spencer.
It's not surprising to me that it
keeps coming back. That's generally just the way it works.
Since you were 7...you weren't typing or playing video games back then were you?
Hmmm. The only reason a 7 year old would be having pain like that is either A. Some weird genetic thing or illness/disease, or B. Nutritional deficiency.
It could be purely a physical overuse issue, but I highly suspect there is a nutritional component as well.
Describe for me your diet, your historical diet, your overall health, and your family's overall health, and a description of a routine day for you.
For the immediate future, start ice dipping for
Wrist Tendonitis
as described on the
How To Reduce Inflammation
page.
----------------------
Please reply using the comment link below. Do not submit a new submission to answer/reply, it's too hard for me to find where it's supposed to go.

And, comments have a 3,000 character limit so you may have to comment twice.
-----------------------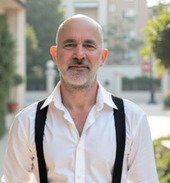 Joshua Tucker, B.A., C.M.T.
The Tendonitis Expert
www.TendonitisExpert.com