Wrist Tendonitis, sore neck and rib, much pain all up the arm
by Derek
(Canada)
Hey there,


First, thanks for the site. My wife has a lot of pain in her wrist all the way up into her shoulder.
A rib was sore too as well as the neck. The chiropractor has told her she has tendonitis, and so has the doctor. The doctor wants to give her shots.
We have started the diping method and dixi cups.
It has been two days and she is no better yet. (I know... can take up to 4 days) She also sleeps on that side... on that shoulder. She should probably avoid that... yes?
Also, she worked in an office for a living. Very responsible job, with a fair bit of typing.
If she does her job, and is intentional about breaks and rest, will typing cause further damage as she employ's your healing methods.
If so, when will she know it is ok to go back to regular work functions.
Cheers,
Derek
----
Joshua Answers:
Hello Derek.
How's your wife feeling now? Stuck with the dipping?
What did the doctor's say the tendonitis was? Or at least, where? Neck? Wrist? Elbow? Hand? Shoulder?
Tendonitis
is a dynamic, and it sounds like hers involves neck to hand, as it so commonly does.
It remains to be seen whether she has any damage or not.
There Are Two Types Of Tendonitis
Personally, I would rather
her be intentional about Ice Dipping, Ice massage, light stretching, self massage, etc.
I'm not such a big fan of
Rest
. Breaks are nice, if one fills them with the above activities.
I believe that it is possible to stay active at one's job and/or hobby even if you have pain. -IF- you do all the right things, and enough of them, to overwhelm the negative factors at play.
So that was a kind of general, first attempt at answering your questions.
Questions:
1. What exactly does 'pain all the way up her arm' mean? The more details, the better.
2. How long has she worked in front of a computer?
3. How long has this been going on?
4. What helps, what makes it worse?
5. Describe all symptoms, in as much detail as possible.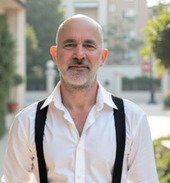 Joshua Tucker, B.A., C.M.T.
The Tendonitis Expert
www.TendonitisExpert.com