achilles tendonosis debridement surgery 2/20/2012
by raymond valcourt
(estero florida)
I injured my achilles tendon playing tennis 3 years ago. Pain would come and go depending on how much tennis I played. My biggest fear is that it would rupture, because that's what happened to my other leg ten years ago.


That surgery took a year of recovery. I saw an orthopedic doctor who did an MRI and x-rays. He told me I had tendonosis, and referred me to a foot specialist. I was put in a boot for 2 weeks, started doing stretching exercises and did not play tennis for 8 weeks. When I returned to tennis it went well for about 3 weeks and pain started again.
Dr. explained my surgery option, and I had it done on 2/20/2012. I went home the same day with a soft cast, and had no pain for 31 hours because of block. I took percocet for 2 days and kept my foot elevated. Ten days later, doc removed stiches and put me in a boot with no weight bearing for two weeks, then weight bearing on heel for another week. At four weeks doctor removed the boot and I began walking in a sneaker, with limp.
No weight-bearing stretching, but I was able to swim. I
am doing ok, no pain, but by the end of the day I'm a little sore. My next appointment is in 2 weeks.
----
Joshua Answers:
Hi Raymond.
Thanks for sharing.
Swimming, great! Non weight bearing stretching/lengthening, great! (Focus on the muscle structures, not the tendon.)
And you may want to check out
The ARPwave System
for a far quicker recovery, faster return to the tennis court, and for avoiding future injury.
Granted, debridement surgery is less traumatic than ruptured tendon reattachment surgery, but still.
Keep us updated!
----------------------
Please reply using the comment link below. Do not submit a new submission to answer/reply, it's too hard for me to find where it's supposed to go.

And, comments have a 3,000 character limit so you may have to comment twice.
-----------------------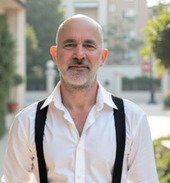 Joshua Tucker, B.A., C.M.T.
The Tendonitis Expert
www.TendonitisExpert.com